In May 2014, Heather — a 20-year-old biological systems engineering student at Virginia Tech — broke her foot while walking in a field.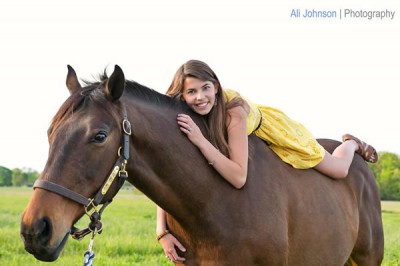 A dedicated horse rider, Heather found the incident unsettling. "I've never been the most graceful person but to break it just walking? That was a little weird."
She didn't know it then, but her instincts were correct; this was the first sign of something very serious.
Things got worse. That summer, during an internship in Georgia, symptoms showed up: Heather was throwing up, feeling tired and terrible and having neck pain. Her eyes, too, started failing her; she had double vision, lost her peripheral vision and weakening depth perception.
Back at school, Heather visited various doctors. Their diagnoses included stress, vertigo, ear infection, not an ear infection, all something different, and it was all very discouraging. "The doctors were giving me all these diagnoses and none of them really felt right to me."
Finally, she got an MRI.
Heather was eating lunch in the loud cafeteria when the doctor called her with the results. "Oh my gosh, he's going to tell me something terrible," she thought. The doctor spoke slowly and told her what she had: a Chiari malformation.
"I was a little bit scared but when I looked it up and researched it a bit I just felt relieved," Heather says. "I researched Chiari malformation and it fit my symptoms perfectly —  at that point I was just ready to feel better, living life normally." And get back to riding her horse.
Liu at UVA: An Expert Nearby
Luckily for Heather, her doctor in Blacksburg knew Kenneth Liu, MD, personally. A UVA neurosurgeon, Liu has unrivalled expertise in handling conditions like these. Her doctor emailed Liu right there in the office.
Liu was happy to help, not only because he enjoys helping others, and the condition is a huge research interest of his but because, he told Heather, he himself has asymptomatic Chiari malformation."His personal connection with the condition was very helpful in his care for me."
Liu describes Chiari malformation like this: "At the bottom of your skull is a bony hole where your spinal cord comes out. Parts of the brain (cerebellum) can sneak down the hole and cause crowding and create pressure." Chiari malformations can be mild and subtle and, since it's a congenital condition, one you're born with, people can get used to the symptoms."
Heather's case, on the other hand, "was severe. Painful compression on her spinal cord caused balance, coordination, focusing problems, double vision. People would describe her as clumsy. It seemed like things got worse when six months ago she started vomiting for no reason."
How Do You Treat Chiari Malformation?
"The way you fix it is to make the hole bigger," Liu explains. "This relieves the pressure and reduces the crowding."
This decompression involved removing some bone and enlarging the sac that holds the brain and spinal fluid by cutting and sewing in a graft (made from processed pig intestines). The graft is watertight, acting as a scaffold for her cells to grow into. "It grossed me out a little bit," Heather says, "I was still relieved the whole time, but I was definitely scared." The idea of being asleep and not having control over her body or knowing what was happening to her during surgery was scary.
And she was worried about having to shave her head for the operation. She worried so much her friends at Virginia Tech said they would show their support by shaving their heads, too, however much Heather had to have shaved.
Liu joked with Heather, "I could really mess with them then!"
That is one of the many things Heather appreciates about Liu — his good humor, as well as his responsiveness, always being available and reassuring. The nurses, too, were great, bringing Heather milkshakes, giving her painless shots, chatting with her and keeping her from getting bored.
"I did feel very safe with Dr. Liu and all the nurses I talked to; they were all reassuring and sympathetic," Heather says.
And somehow, Liu ended up cutting without touching Heather's hair line, to her relief. "I have no idea how he did it, but he did!"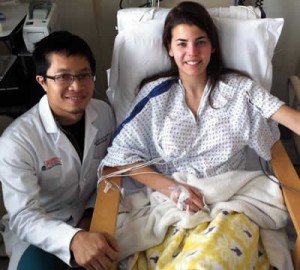 Liu collaborated with Edward Oldfield, MD, and John Jane, Sr., MD, who are world experts in the topic, he explains. "We just published an article about using the intraoperative MRI to look at how different stages of surgery affect the flow of spinal fluid. Heather's results were good, and immediately after surgery she felt better."
Heather agrees. "Immediately my hand eye coordination was better, I was more secure on my feet and my double vision drastically improved."
The surgery took place Thursday morning; Heather left the hospital Sunday afternoon. By then, she was able to walk up and down stairs, with help; one week later she could shower without help.
By December 12, her last appointment with Liu, he lifted the restrictions on her physical activity. Though she will still need six months to make a complete recovery, Heather is able to ride her horse again.
Do You Have Symptoms?
Learn more about Chiari malformation at the UVA Neurosciences Center.