At about 4:15 a.m., Betty Craun said goodnight to her husband, rolled over and fell back asleep.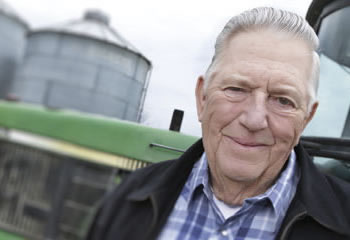 It's common for the couple to wake during the night and talk for a few minutes before going back to sleep, she says.
About 15 minutes later, Betty felt an odd movement in the bed.
"I said, 'Bill, what's wrong?' but he didn't answer me," she says.
Reacting to Stroke
Betty turned on the light and saw her husband making the same motion with one arm, as if he was trying to grasp the covers to pull them back but couldn't.
Betty sprung into action. She dialed 911, called her daughter, Cindy, and had just enough time to dress before the rescue squad arrived to transport Bill to a local hospital.
The hospital called the stroke team at UVA and shared images they'd taken of Bill's brain. The scans showed a blood clot in one of the major blood vessels of the brain. Bill, 76, was having an ischemic stroke, the most common type of stroke that happens when blood flow to the brain is blocked.
If you're having symptoms ­— difficulty speaking or understanding speech, numbness or weakness on one side of the body, sudden loss of vision in one or both eyes — you have to get to the emergency room immediately.
Stroke neurologists at UVA determined he was a good candidate for a minimally invasive clot removal procedure called endovascular thrombectomy. In existence for several years, recently published studies in the New England Journal of Medicine provide strong evidence that outcomes are better for certain patients experiencing ischemic stroke who undergo this procedure.
Bill was flown to UVA and rushed into surgery.
"We went in through an artery at the top of his leg and ran a catheter, a thin plastic tube, up into the blood vessels of his brain," says interventional neuroradiologist Avery Evans, MD. "We were able to grab ahold of the clot and take it out. That restored blood flow to his brain."
With a dedicated stroke team — including five specialists trained in performing thrombectomies — few hospitals have the depth of capabilities that UVA does when it comes to stopping stroke.
Waking Up
Shortly after Bill woke up in the ICU the next morning, he could speak single words. Hours later, he began speaking in full sentences. That same day, he moved out of the ICU and onto a regular floor.
Bill realized how much damage the procedure spared him when he began rehabilitation and saw other stroke victims.
"People weren't like I was when I got there," he says, his voice cracking with emotion. "Many never will be."
Back on the Tractor
Two months after his stroke, Bill is back on his tractor and back to the daily tasks of tending to his 200-acre farm. A fourth generation farmer, he raises beef cattle and grows crops near Mt. Crawford, VA.
"He would have been absolutely devastated if we hadn't done this procedure," Evans says. "He would have been unable to use the right side of his body and unable to speak or understand speech."
Those affects would have been life-long, he says.
"He would have never recovered from that," Evans says. "Living in that state is unimaginable."
The whole family is grateful Bill didn't have to experience those devastating effects.
"It humbles you and you feel so blessed because the outcome could have been so different," Cindy says.
The Short Window of Time
More than ever, providing timely treatment is critical in cases of stroke, says stroke neurologist Bradford Worrall, MD, one of the first doctors to review Bill's condition during his stroke. The window of time in which a medical intervention can save a patient from disability or death is within six hours of the onset of stroke symptoms.
"We need to continue to look at where we can trim seconds off here and there," he says. "It's a real team effort among EMS, emergency medicine, clinical labs, nurses, neurologists, neuroradiologists and neurosurgeons, among others.
It's especially important to make sure the general public understands stroke is an emergency that needs medical attention immediately, Evans says.
"Stroke is not painful, so people sometimes don't realize they have to do something about it right away," he says. "If you're having symptoms ­— difficulty speaking or understanding speech, numbness or weakness on one side of the body, sudden loss of vision in one or both eyes — you have to get to the emergency room immediately."
Every minute the brain is without oxygen, the greater the damage. Because of this, stroke is the leading cause of disability in the United States.
"After about six hours, we run out of options," Evans says.
As innovative procedures such as clot thrombectomy increasingly lead to better outcomes for stroke patients, both Evans and Worrall say they look forward to seeing more patients like Bill.
"It's the most rewarding thing you can imagine as a doctor," Evans says. "It's very humbling. When I saw him, he gave me a big hug. I look forward to seeing him and his family again."