It's mid-June, which means it's time to face some bad news: Your kids are out of school for another 1,680 hours.
Even if you take out the time they'll spend sleeping, you're still left with a lot of hours, which means a lot of trips to the pool, a lot of screen time, an awful lot of time at camps or with babysitters or with you.
Here's your guide — and theirs — to getting through it and even having a little fun.
Fun Summer Activities for Kids and You
Need to keep them active and burn energy? Get some ideas from this infographic on fun exercises for kids.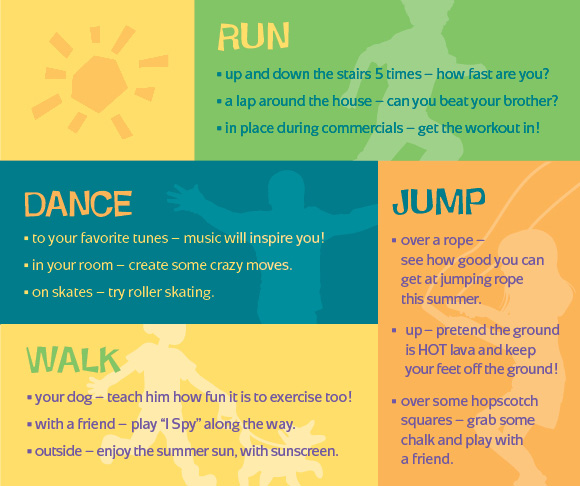 Or read these eight ways to keep your kids fit, including screen time advice.
Summer Reading for Parents
Take care of yourself, too, by relaxing with a good book. Consider:
Run (Or Walk!) A Race
This local Labor Day weekend tradition benefits the UVA Breast Care Center. Registration opens June 27 and usually fills up within hours. Get more information.
Looking for something the whole family can do? Try ACAC's Splash for a Cure 5K race and pool party, which benefits the Children's Hospital's neuroblastoma research.
Safety: Drowning Prevention and Severe Weather
Before you head to the pool, give yourself a refresher on water safety. Sadly, an average of two children drown every day in the U.S., according to the Centers for Disease Control and Prevention. If your kids don't know how to swim, look into formal swimming lessons, even for toddlers — a study showed they help prevent drowning in kids as young as one.
But just as important, you should know what drowning looks like. Drowning victims are usually unable to splash around and yell for help.
Summer in Central Virginia usually brings severe thunderstorms and flood warnings. Be ready in advance by doing these four things.
Share Your Plans
Have you found some free and fun activities to keep your kids busy? What's your favorite hot-weather recipe? Leave a comment to let us know!