Mary A. Sullivan coordinates community advocacy, education and outreach efforts for the Teen Health Center. She's provided health education to local students and parents for more than 20 years. Here she offers some of her favorite books for parents of teens.
Parenting teens can be exhilarating and harrowing.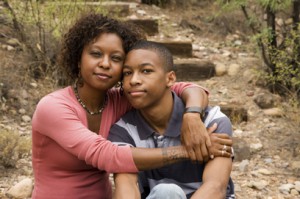 Unfortunately, it can also be isolating. If your teen is engaging in high-risk behavior, you, as a parent, may feel guilty and lonely.
The books I mention below may not have all of the answers, but they can help you and your family get through what can be a difficult time.
Often, just knowing that you and your child are not alone in what you are experiencing can be helpful.
These books don't make for light beach reading, but they are enlightening and gripping.
"Far From the Tree: Parents, Children, and the Search for Identity," by Andrew Solomon, is riveting. College-bound high school students experience enormous pressure and perceived competition to get into the best colleges.
Being average seems no longer good enough. Solomon explores, in beautiful detail, what it's like to raise children who are "different," or who may appear to have fallen far from the family tree. Solomon weaves family interviews, empirical data and personal observations into thought-provoking narratives.
"Oddly Normal: One Family's Struggle to Help Their Teenage Son Come to Terms With His Sexuality," by John Schwartz, is a moving account of his son Joseph's struggle to fit in socially and academically. Schwartz and his wife become fierce advocates for their son, but they realize that their acceptance and support are not enough. Schwartz combines memoir with research about LGBTQ youth.
"Beautiful Boy: A Father's Journey Through His Son's Addiction," by David Sheff, is hard to read. Sheff describes his guilt and despair, his initial denial, his inability to keep his son Nic safe and clean, and the impact Nic's addiction has on his younger half-siblings.
"Tweak: Growing Up on Methamphetamines," by Nic Sheff, is the other narrative of David Sheff's story. Written as a journal, this book exposes the relentless ugliness of methamphetamine addiction, what Nic Sheff calls "the most malefic drug of all." Sheff chronicles his drug history, starting with middle school marijuana use and escalating quickly to use of other drugs. Nic Sheff's account makes his father's rendering seem mild.
Both David and Nic Sheff wrote subsequent books about addiction. Nic Sheff's "We all Fall Down: Living with Addiction" candidly describes his relapses. David Sheff's "Clean: Overcoming Addiction and Ending America's Greatest Tragedy" looks at the state of current recovery programs and the tenacity of addiction in the face of treatment.
Looking for some more summer reading? Check out last year's recommendations from our doctors and staff.