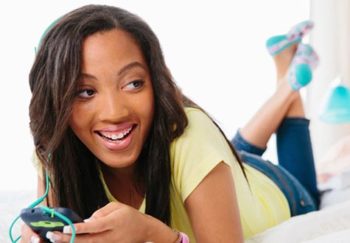 Tameka Brown had just started her senior year at Amherst County High School. The 17-year-old was thinking about becoming a nurse or a doctor, and in her spare time, she spoke out about traffic safety and the dangers of texting and driving.
But that fall, she started feeling tired and wasn't up to doing anything. She lost weight and was cold all the time.
One day, Tameka's mom found her sitting downstairs shivering. She became worried and took her daughter to the emergency room at their community hospital. There, Tameka recalls, doctors discovered her heart rate was 190, more than double what it should be. They tried shocking her heart with a defibrillator to restore the normal rate, and that worked, but only for a little while.
"They just couldn't figure it out," Tameka recalls.
A Rare Heart Disorder
After two days, she was transferred to UVA Children's Hospital. Doctors tried medication to slow down her heart rate. Thomas L'Ecuyer, MD, told Tameka her fast heart rate was a result of restrictive cardiomyopathy, a condition where parts of the heart wall are abnormally stiff so the heart has trouble pumping blood. The cardiomyopathy was causing heart failure and pulmonary hypertension (an increase in pressure in the pulmonary arteries). L'Ecuyer told Tameka she might need a heart transplant.
Exploring Transplant Options?

Learn more about organ transplants at UVA Children's Hospital.
"I didn't believe it," Tameka says. "I was like, 'Nah, that's not going to happen.'"
But the medication wasn't working, and doctors worried the fast heart rate would eventually lead to cardiac arrest and death. Tameka was put on the transplant waiting list as a Status 2 patient; Status 1 is first priority. She got to go home for Thanksgiving, but the high heartbeat returned and she went back in the hospital.
Throughout the hospital stay, Tameka's family and the doctors and staff at UVA helped keep her spirits up. She kept up with her schoolwork, working with a teacher from the Hospital Education Program who sent her work back to her high school.
Finally, on December 20, a heart became available, and Tameka got her transplant.
Recovering from Heart Surgery
Tameka's first memory is her boyfriend standing at the door to her hospital room, waving at her.
She was tired and had some pain from the surgery, but the shivering and weakness was gone. In January, she went home.
"I feel a lot better," Tameka says. "I have all that energy back. I'm myself again."
Tameka went back to school and, because she kept up with her work from the hospital, was able to graduate on time. She spent her summer relaxing and taking a vacation to Myrtle Beach. This fall, as the one-year-anniversary of her transplant approaches, she'll be attending school and now hopes to become a nurse practitioner.
"I always wanted to be a nurse or doctor, but after I went through this, I knew I really wanted to," she says.
Her specialty? "Probably cardiology."