When Grayson Kirby arrived at the UVA emergency room in a medical helicopter, doctors gave him less than a 10 percent chance of survival. The 31-year-old had been in a car crash and had multiple broken bones, including bones in his neck and back, internal bleeding, crushed lungs and a lacerated liver.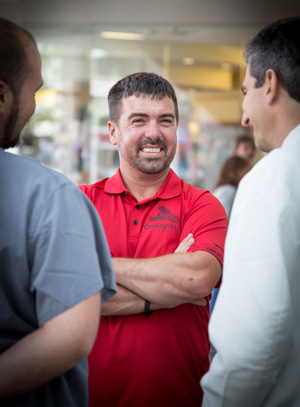 Even worse, his brain hadn't been able to get enough oxygen because of his injuries, and he had a diffuse axonal injury, a type of traumatic brain injury that often causes permanent damage or death.
Grayson's doctors and nurses worked tirelessly to save him but warned his family he was unlikely to survive. His lungs were so badly injured that even a ventilator couldn't keep him alive. Instead, surgeon James Isbell, MD and his team placed Grayson on extra-corporeal membrane oxygenation (ECMO), a machine that puts oxygen into the blood and circulates it throughout the body.
The machine kept Grayson alive, but he was in a coma. The brain injury "was not just a wait and watch but a pray, wait, pray, watch," recalls his mom, Karen Kirby.
Waking Up From a Coma
After 10 days in a coma, Grayson beat the odds: He woke up. Not only was he awake, but he had no brain damage, no memory loss, no paralysis.
"Medically speaking, Grayson should not have survived given the extent of his injuries," says Isbell. "In addition to the prayers of his family and friends, he had literally hundreds of dedicated UVA physicians, nurses and staff working around-the-clock to save his life."
A year after being released from the hospital, Grayson and his parents came back for a follow-up appointment and reunited with his care team. "These people are like family to me," Grayson says. "God worked through their hands to save me. I'm here today because of them."
Grayson's mom, Karen, credits Isbell and ECMO with saving her son's life. "Saying 'thank you' isn't enough. I can't express how grateful I am for the medical team here at UVA."
Grayson's car accident was just before Father's Day 2014. His parents spent the holiday at the hospital, unsure if their son would survive. This year on Father's Day, his mom says, "Grayson walked me down the aisle at his brother's wedding."