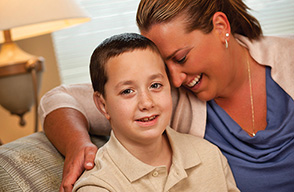 Nicholas Papaneri was born with bilateral microtia and atresia – two rare disorders that limit hearing in both ears. His outer ear and inner ear canals stopped developing at three months in the womb. Besides his hearing issues, Nicholas was a completely healthy baby, which made him a great candidate for surgery.
Denise Papaneri, Nicholas' mother, started doing research to find a solution to her son's hearing loss. The search took the family from their home in New Jersey to Texas, Florida, California and, eventually, to the University of Virginia. It was here that they met Bradley Kesser, MD, an otolaryngologist specializing in children's ear, nose and throat surgery.
Dr. Kesser performed a delicate four-hour surgery inside Nicholas' left ear. Then, several months later, he performed the same surgery on his right ear.
It was an emotional process for everyone involved, but especially Nicholas himself. "My son went from being deaf without his hearing aid to having 100 percent hearing in both ears," Denise said.