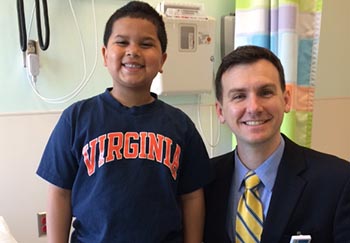 Nobody could have predicted what happened in the store that Friday afternoon. Amanda Burns-Early's sons were being boys, playfully pushing each other around as she shopped in a Charlottesville store. But in an instant, 5-year-old Christopher stepped on his shoelace, tripped and fell into a metal clothing rack.
The blunt metal end of it went into the right side of his neck, just under his chin.
Burns-Early immediately applied pressure on the deep cut and called 911. When an ambulance arrived, an EMT asked her which hospital she wanted to go to.
Christopher had never been to UVA before, but Amanda didn't hesitate. "I knew the severity of it and that UVA would be capable of caring for him," she says.
Kid-Friendly Language
When Christopher arrived at UVA, he was immediately seen by pediatric surgeon Jeffrey Gander, MD. Gander was concerned Christopher's cut could have damaged his airway, the floor of his mouth or his carotid artery, which runs along the front of the neck and carries blood to the brain. He consulted with head and neck surgeon Stephen Early, MD.
Heading to the UVA Emergency Room?
"We have access to very experienced specialists who care for injured children all the time," Gander says.
Gander and Early decided to do exploratory surgery to ensure Christopher's injury hadn't damaged any other parts of his neck or mouth. Amanda was glad they were being thorough, but she worried that if her son knew he was having surgery, he would become upset and scared. So she asked the doctors not to tell him.
"They honored that and understood that," she says. Christopher's care team also avoided scary words like "stitches."
"They talked to him in a calm, quiet manner," Amanda says. "They were saying they were going to take care of him, and that they were going to make this all better."
One small act of kindness stands out for Amanda: Her phone was dying, and she worried about keeping in touch with her family. She started asking around, and one doctor who was also involved with Christopher's surgery loaned Amanda her own charger.
"They were friendly and caring, and that came across in how they interacted with Christopher and with us," she says.
Ultimately, Gander and Early determined Christopher's neck and mouth were fine, and he only needed stitches to close the wound.
The following week, Christopher had a follow-up appointment with Gander, who cleared him to return to his regular activities.
Cheering for UVA
A month later, Christopher still talks about his emergency room experience. He loves to wear his UVA shirt and show off the photo taken of him and Gander at his follow-up appointment, Amanda says.
"None of what happened to him in the hospital was traumatizing to him," she says. "Should something happen again, UVA will be where we go, and he'll know that he'll be taken care of."
Amanda, a native of New York, has lived in Charlottesville for seven years. She cheers for Syracuse University, UVA's ACC rival. But after this, "We'll be cheering for UVA, too."