Are you thinking about adoption? Are you overwhelmed by the process and don't know where to start? We've got the answer – our International Adoption Clinic.
Adoptions are a long, tedious and sometimes very confusing process overloaded with paperwork. Mark Mendelsohn, MD, Sarah Boggs, MD, and occupational therapist Ruth Goldeen are available to:
Receive calls
Field questions
Explain agency documentation
Offer recommendations to families at all stages of the process
I sat down with Mendelsohn, a general pediatrician, to learn more about this service and why it attracts potential parents from all over Virginia.
Pre-Adoption Consultation
After months or even years of wading through the adoption process, parents may be sent paperwork about an available child and told they have 24-72 hours to make a final decision.
Many times, international adoption agencies don't have a complete medical history for the child, or the history may be outdated. And adoptions often involve children with complex medical issues or delayed development. "For every three months a child is in an orphanage, they are about a month behind in development and growth," says Mendelsohn.
Comprehensive documentation and medical concerns are dependent upon the country. Children available from China often have cleft lip and cleft palate, whereas children from Eastern Europe may be more often exposed to fetal alcohol syndrome. In any situation, families may benefit from a pediatrician experienced in international adoptions to review paperwork and help explain the medical terminology.
Developmental and Growth Evaluation 
With sometimes limited documentation, Mendelsohn and his team tease through what might be accurate and what questions potential parents should go back and ask the agency.
Documentation may be limited to:
Growth measurements based on charts
Head size based on picture and possible genetic makeup
Video of child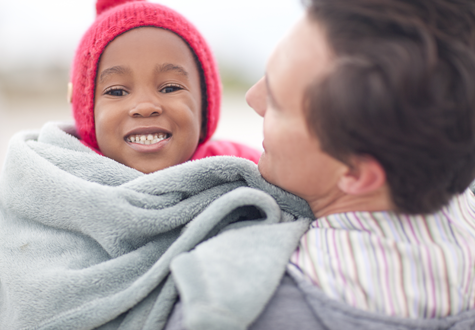 From a medical, developmental and educational standpoint, our staff can offer information on what might be a concern and potential high-risk medical problems. This way, parents have a more concrete idea of what medical attention and care the child will need upon arrival in the U.S. and possibly into adulthood.
However, Mendelsohn says about two thirds of children catch up developmentally with proper treatment and care. 
Post-Adoption Consultation
Our staff suggests families visit the clinic 2-4 weeks after bringing their child home. Families need time to settle in after an overseas trip, bond with their child and see any issues and questions they might have.
At our clinic, children aren't seen in the typical doctor's office. Instead, they experience a playroom visit. Most adoptions occur under the age of five, and many children aren't English speaking. Natural play allows our doctors and occupational therapist to observe areas of developmental delays.
Other services offered:
Complete blood work profiles, including lead and thyroid studies
Test for hearing impairments
Screen for illnesses like HIV, hepatitis and giardia
Initiate a vaccination schedule
As part of UVA's Children's Hospital, the clinic has access to a variety of pediatric specialists who can be recommended on a case-by-case basis.
Helping Others Become Families
Questions about adoption?

Call the clinic today – 434.924.9130.
Adoption rates have evolved over the years, declining in times of recession. Establishment of the Hague Convention, an international agreement to safeguard child protection rights, has placed more restrictions on international adoptions. They now require more paperwork and time than in previous years.
Currently, the clinic meets one day per month and see about 50 in-person visits a year. Those numbers triple for phone calls from out-of-state parents who are unable to physically visit the clinic.
Despite restrictions and potential geographical boundaries, Mendelsohn finds great fulfillment in working with these families. "People tell us, 'It turns out [our child] is great,' and 'you helped us through a hard time,'" he says. "It's wonderful knowing that we're the bridge to help these people become families."