A Talk With a Doctor Who Listens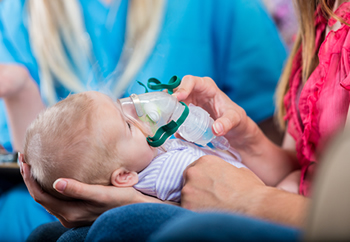 Jim Plews-Ogan, MD, is a great listener—he's the kind of person who puts you, and the kids he treats, at ease.
He's been seeing my kids and listening to my concerns and their growing vocabulary for eight years, so it was a fun reversal to be the one asking the questions.
Four years ago, Ogan started By Your Side Pediatrics at UVA. I wanted to know why, and why, too, he values the personal relationship so much in his approach to medicine.
Healthy Kids and Complicated Cases
Ogan started the practice "to replicate at UVA most of what I do at my private practice. So it's a house call practice, a very small, highly personalized practice. The doctors know the patients really well, and all the sick calls are done at home."
This primary care practice serves two types of patients:
Children considered "typical," with normal health
Children with "medical complexity"
Ogan gets excited as he explains how the mission of this practice "really was designed to be able to take care of more highly complicated kids, the kids who have two or more chronic, serious illnesses in two or more organ systems."
The Doctor as Quarterback
"When I say complicated," he explains, "I mean partly that it's intellectually complicated to figure out all these diseases by themselves, and then partly complicated because all these things overlap; one thing complicates another thing. Each thing by itself is complicated, then all combined it's a whole other realm."
He provides examples. "So they might have both seizures and an orthopedic problem, or a rare form of dwarfism plus lung problems."
Having a number of serious conditions poses logistical tangles that exacerbate the challenge parents face in caring for their children, not to mention adding stress and strain to the child. This is where By Your Side steps in: to serve, Ogan says, as a quarterback for the team supporting and caring for the child.
This coordination is key. "These kids have many subspecialists, lots of appointments, a high utilization of services. We're making sure they make it to all their appointments, that someone's responsible for making sure their oxygen arrives, keeping track of all these elements."
This summer, Ogan conducted research and found that most of these patients have 6-8 subspecialists caring for them. Some of the kids have such rare conditions they have to travel long distances to visit the one doctor in the region who has the necessary expertise. For those of us who find seeing just one doctor stressful, it's easy to understand that navigating multiple providers might prove overwhelming.
Having a pediatrician as a point person minimizes the chaos. "So the idea is to really get to know them well, in a highly personalized way and then, when they're sick, see them at home."
House Calls for Sick Kids: Benefits
The home visit aspect has many advantages that might not immediately be apparent to the average person. For a child with medical complexity, traveling even short distances can be a strain, a "big schlep," as Ogan calls it, referring to the difficulty of managing wheelchairs, prosthetics and medical equipment like ventilators or feeding tubes. The home visit also minimizes the child's exposure to germs. And for Ogan, too, "house calls give me more flexibility." Which, for such a busy doctor, seems crucial.
And Ogan values time. During a home visit, By Your Side gives more time to each patient than usually slated for a typical pediatric visit. "For these kids, you need more time. You can't see them in 20 minutes. There's too much going on that needs to be addressed. You need a longer appointment."
The approach has led to success. "We have 25 kids we're following in Charlottesville, 8-10 kids in Lynchburg and we're planning to expand. It's been very successful. These kids don't have to travel as much, don't visit the emergency room as much and we can coordinate their care a little bit better." By Your Side currently includes two other doctors and may soon add a fourth.
Infant & Palliative Care
As Ogan talks, I imagine elementary-aged children, but it turns out that many of the patients treated at By Your Side came to the practice straight from the NICU at UVA.
These tiny patients "have had long courses in the NICU. They go home and still need really intensive care. They go home on a ventilator, with a g tube, or on oxygen, and they keep that for an extended period of time."
Ogan and his team also provide outpatient palliative services for children dying at home. "We're also coordinating their care and taking care of them as well. Not that these kids weren't getting care before. But it decompresses the stress on families and parents to not have to come in as much. They have a lot of complications and need help at home because of the technology or support for their child's shortened lifespan."
A Pediatrician With a Personal Touch
When I ask Ogan why he's chosen, both in his private practice and with By Your Side, to allow so much time for appointments, his answer is simple. "It's just what I like to do." He shrugs. He's worked in really busy practices before. "But I would much rather have time and let the kids play and get to know them and have it be easy; it's just more enjoyable to me. I think you all enjoy it too. I think everyone appreciates it."
Ogan says that having fewer patients who he knows well also makes being a responsive doctor easier.
"People say, 'How can you do this, take calls all the time.' When people call me, I know them and their kids, and we jump right into what's happening; it's not like I have to take a whole history to understand. The partnership is much easier. People don't call me with frivolous things; they can get me when they need to talk to me. And we can take care of things on the call."
Since Ogan's responsiveness to my phone call years ago saved my child's life, I know what he says is true. "It's a big responsibility," he says. "To hang up and not know if you have that partnership, if they're going to do what you say, if they'll call you back—that lives on in me when I hang up the phone."
So this personalized approach "works for everybody." He smiles. "It's great."
I think he's pretty great, too.