Ever wonder what your doctor or health provider does outside the exam room? Our 7 Quick Questions series gives you a personal glimpse into the people of UVA.
Spencer Payne, MD, grew up in Poughkeepsie, NY, halfway between NYC and Albany. He has treated ear, nose and throat conditions at UVA since 2007.
1. What did you want to be when you were little?
An architect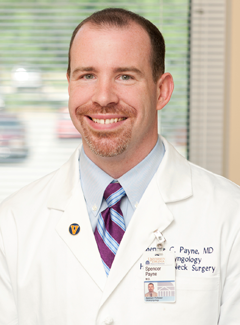 2. What's your favorite thing about Charlottesville?
Restaurant/brewery opportunities abound!
3. What's the most unhealthy thing you eat?
Blondies from UVA's cafeteria
4. What's the most exciting thing/research happening in your field right now?
Alcohol sensitivity in certain forms of chronic sinusitis – one of my own personal interests.
5. Why did you choose your specialty? 
The anatomy of the head and neck is incredibly complicated. My subspecialties include rhinology and endoscopic surgery because of the huge overlap of medical and surgical treatments, as well as the significant impact of technological advancement on the field given all the "gadgetry."
6. What's your favorite thing about working at UVA?
Collaboration – everyone wants to work together!
7. Who's your inspiration/hero?
My father worked tirelessly and drove 1.5 hours to and from work every day; I think that work ethic played a serious role in creating my internal compass for how and why things need to be done.