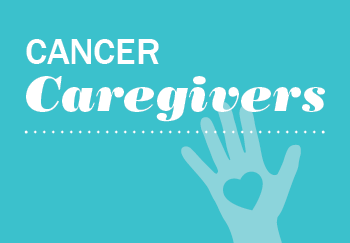 Caregivers, family members and friends of cancer patients spend a lot of time in hospitals. That often means traveling to the hospital from home or work, and between running your own household and helping with your loved one, too. That doesn't leave a lot of time for preparing or purchasing food, but finding quick meal ideas and healthy snacks you can keep on hand is important. If you're not properly fueled with food that's good for you, you might end up needing someone to take care of you.
With a little preparation, you can stock up on snacks and ready-to-eat meals that will keep you running longer. Some people are fine eating snacks as a meal, and some people need something more substantial. Here are some to-go snack suggestions and quick meal ideas to help keep you going.
Whole Fruit
Bananas and apples are self-contained fruits that don't need cutting or packaging, and nature's sugar will give you a good energy boost to your day. Of course, you'll want to be careful when transporting bananas so they don't get mushy or bruised, but they pack a nutritious punch. And if you have a few extra minutes, you can cut up any fruit you love and pack them individually to grab during the week.
Cut-up Vegetables
A bag of baby carrots is both filling and has that satisfying crunchy snack quality. Best yet, they don't require washing or cutting. Buy a big bag and portion them out into smaller bags, or just get prepackaged snack-size bags at the grocery store. Stores often sell cut-up assortments of other vegetables, too.
Dips
You can buy individual, prepackaged servings of hummus, guacamole and peanut butter, all of which make great dips for your vegetables. Dips often give you a punch of protein or energetic healthy fats, and single-serve packaging leaves you fewer containers to wash out at the end of the day.
Yogurt
With calcium and protein, yogurt keeps you fuller longer, so it makes a great snack for caregivers. Just keep some ice packs in your freezer, and bring it with you to keep your yogurt cool when you leave the house. Greek yogurt especially offers a high-protein, low-sugar option. You can add fruit and healthier sweeteners like a teaspoon of honey or pure maple syrup to up the flavor content.
Bars
Snack bars and granola bars are a popular option to put in your purse or keep in the car. Try to find one with lots of protein and fiber and no added sugar. Fewer than five ingredients is a good target to aim for as well.
Trail Mix
Make your own with your favorite nuts, seeds and dried fruit, or buy it already made. Trail mixes (the ones without candy in them) offer some concentrated protein and a burst of fruit, and they have a long shelf life.
Sandwiches
Spend 20 minutes at home one night making a bunch of sandwiches, then stick them in the fridge individually wrapped. Voila — you have a quick meal you can throw in a bag to bring with you. This method works especially well with peanut butter and jelly, wraps with cheese and beans, cold cuts that are nitrate-free and egg and tuna salad. Stick to whole grain and sprouted breads with seeds in them. You can also cut down on your gluten intake by using wraps or pita pockets.
Rice Bowl
Cook up enough rice to make several rice bowls (a set-it-and-forget-it rice cooker comes in especially handy here). Toss in some cooked veggies and chicken for an easy meal that's easy to port and reheat in your plastic travel containers.
Chicken Caesar Salad
Everyone loves a classic. Rip up some Romaine lettuce and place it in a big mixing bowl. Next saute some skinless chicken breast in Caesar dressing, let cool and incorporate it with your lettuce, adding in some grated some Parmesan cheese. Add a splash more of your Caesar dressing, and some olive oil to help distribute it evenly without adding too much extra fat and cholesterol and toss. Cover with saran wrap, or better yet, portion it out in plastic to-go containers and store in your fridge. It's a great meal to take with you as-is, or a quick, tasty filling for a wrap you can pack up and take with you.
More Than Patient Care

Whether you're a patient, caregiver, family member or friend, our support services help you meet the challenges of dealing with the illness.
Eating at the Cafeteria
Of course, hospitals have cafeterias, and sometimes you have no other choice. While they can be tricky to navigate, there are healthy options available. In general, think fresh, simple and unprocessed: Whole fruit or a fruit salad can give you a quick burst of energy, but you should avoid fruit dosed in thick syrups. Salads, too, can be a great way to get in some fresh produce, but take your dressing on the side and avoid drowning your healthy roughage.
Soup can be a good spot of warm comfort food, but make sure you inspect it first to make sure it's not from a can (cubed carrots and neon green Lima beans are a dead giveaway). And stay way from packaged sweets and salty snacks and opt for some packaged nuts for a crunchy bite filled with protein and healthy fats.
Whether you're prepping some meals on Sunday nights or snagging some fruit on the go, it is possible to eat healthy while caring for your loved one with cancer. It's important that you take care of yourself as a caregiver, and part of that is eating right.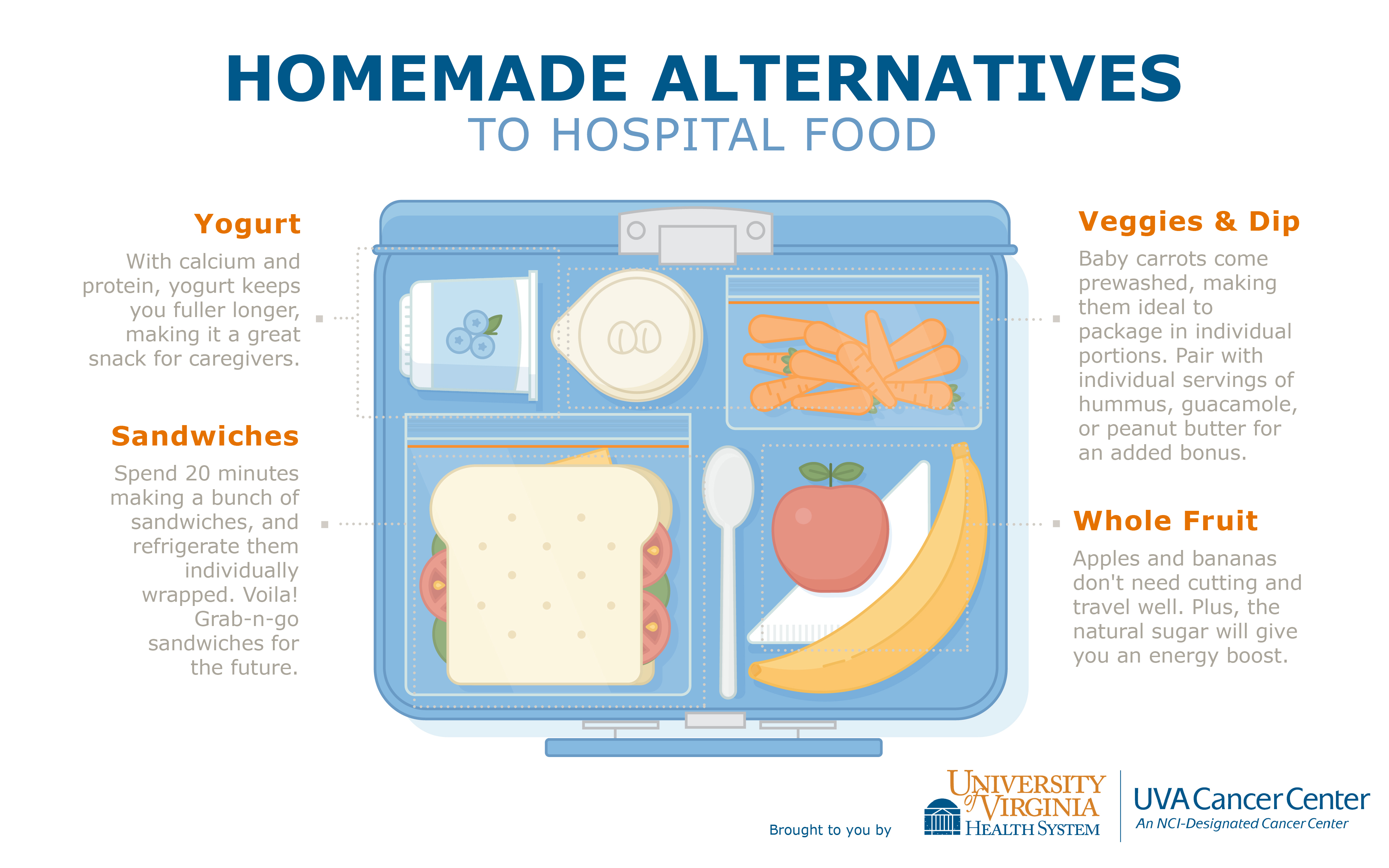 Image Text: Homemade Alternatives to Hospital Food
It's important that you take care of yourself as a caregiver, and part of that is eating right.
Yogurt

With calcium and protein, yogurt keeps you fuller longer making it a great shack for caregivers.

Sandwiches

Spend 20 minutes making a bunch of sandwiches, and refrigerate them individually wrapped. Voila! Grab-n-go sandwiches for the future.

Veggies & Dip

Baby carrots come prewashed, making them ideal to package in individual portions. Pair with individual servings of hummus, guacamole or peanut butter for added bonus.

Whole fruit

Apple and bananas don't need cutting and travel well. Plus, the natural sugar will give you an energy boost.