Ever wonder what your doctor or health provider does outside the exam room? Our 7 Quick Questions series gives you a personal glimpse into the people of UVA. 
Kathie Hullfish, MD, is an OB/gyn specializing in urogynecology and pelvic reconstructive medicine.
1. Why did you become a doctor?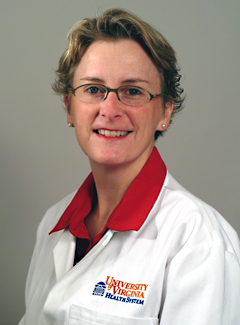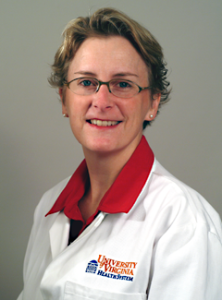 I became a doctor to help people in vulnerable states and to feel like I make a positive difference in people's lives. I also find it to be an intellectual and emotional challenge.
2. Why did you choose your specialty?  
I chose my specialty because I enjoy complex problems and thinking through patient-centered goals and solutions. I enjoy pelvic surgery. I remain motivated and inspired in an academic medical center.
 3. What's your favorite thing about Charlottesville?
It's "easy" – so many amenities (culture, sports, restaurants, outdoor activities) in a beautiful and convenient setting.  I have a wide circle of friends who are like family here.  I also love the change of seasons.
 4. Where did you grow up? 
I grew up in Lawrenceville, New Jersey.
 5. What's the most exciting thing/research happening in your field right now?
Right now, there is genomic research to better understand the etiology – and someday prevention — of pelvic floor disorders.
 6. Who is your inspiration/hero?
My parents, my many mentors, my spouse, my team members in clinic and the operating room, and my patients.
 7. What's your favorite thing about working at UVA? 
My favorite thing about working at UVA is the collaboration across disciplines and the teamwork to make UVA the safest place to give and receive care.
Learn more about Dr. Hullfish.