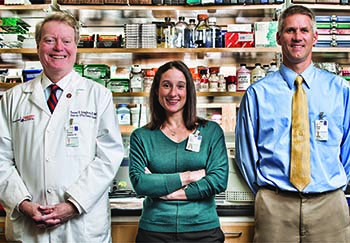 Large granular lymphocyte leukemia (LGLL) is a rare type of blood cancer, as fewer than 1,000 people in the United States are diagnosed with it each year. Thomas Loughran, Jr., MD, director of UVA Cancer Center, discovered the disease more than 30 years ago and has since been dedicated to researching and treating it. Here's what you need to know about this type of blood cancer:
What is LGL Leukemia?
White blood cells help your body fight infection. In this type of leukemia, lymphocytes, a type of white blood cells, become larger than normal and outnumber other types of blood cells. The damaged cells make copies of themselves and spread. There are two types of leukemia: T-cell and natural killer (NK) cell. Most often the disease is considered chronic or slow growing, but occasionally, it can be aggressive.
Signs and Symptoms
Signs and symptoms include random weight loss, night sweats, frequent fevers, recurring infections and anemia (due to low red blood cells). When you go for a check-up, your doctor may see a change in blood cell counts, including a lower neutrophil (a type of white blood cell) count, and notice that your spleen has enlarged. Changes in blood cell counts can result from anemia or neutropenia. Anemia causes fatigue, weakness and dizziness while neutropenia lowers your body's ability to fight infections, causing you to get sick more often, according to UVA Cancer Center.
The disease is most often diagnosed in older adults, around age 60, but about a quarter of people diagnosed are under age 50. The cause of the leukemia is unknown. However, many people are diagnosed with an autoimmune disorder, commonly rheumatoid arthritis, before receiving a diagnosis of LGL leukemia. According to the Leukemia & Lymphoma Society (LLS), autoimmune diseases are diagnosed before LGLL 20 percent of the time.
Diagnosis and Treatment
This leukemia is diagnosed through blood and other tests, and is sometimes followed up with a biopsy. Because the disease is so rare, it can get overlooked or misdiagnosed. Under the leadership of Loughran, there is a team of dedicated researchers and scientists working on advancing tests and treatments for LGLL. Patients who suspect they have the disease can be evaluated and tested through the LGL Leukemia Program at UVA.
Aggressive types often don't respond to treatment, and a clinical trial may be the best avenue. If you have the chronic form of the disease, your doctor will likely hold off on treatment until necessary.
Meet Thomas Loughran, Jr., MD

Learn about LGL leukemia in this video with Thomas Loughran, Jr., MD,.
There is no standard treatment, according to the LLS. The mainstay of treatment is to find a combination of drugs that best manages your illness. These can include:
cyclophosphamide, a drug that works to block cell reproduction
cyclosporine and/or methotrexate, drugs that work to suppress the immune system
In rare cases, a person with an enlarged spleen may need to have it removed. Stem cell and bone marrow transplants may also be used to treat the disease, but are much less common than medications.
People whose anemia or neutropenia become severe may need to have a blood transfusion as well. Those with LGLL have regular blood tests about every 4 to 6 months to monitor their disease and adjust treatment as needed. Because treatment suppresses the immune system, it's important to have regular sleep patterns and avoid people who have the flu or other contagious ailments. The Rare Genomics Institute also recommends following a healthy diet, with foods rich in iron (dark leafy greens, meat and beans), vegetables and low-fat protein.
Currently, there is no cure for the disease, but researchers at UVA Cancer Center and around the world are looking for innovative treatment options to help those who have LGL leukemia.