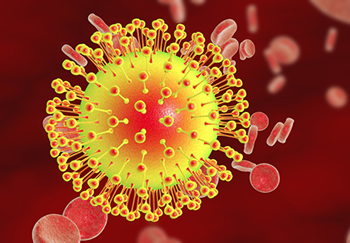 It's the beginning of summer here in the U.S., which means it's time to welcome warm weather, summer movies, trips to the pool and, whether we like it or not, mosquitoes. This year, we have an additional reason to dread those blood-suckers: the Zika virus. And according to William Petri, MD, "There is the possibility there will be Zika transmission in the U.S. as we get into mosquito season."
This is not a foregone conclusion, however. So far, the cases identified in Virginia, for instance, have all originated in other countries. So long as people follow a protocol to prevent transmitting the virus to others after traveling, local mosquitos could remain virus-free, and rates of infection could stay low.
For Zika to become endemic to the U.S., a series of events would have to occur. "A person in South or Central America," Petri explains:
Gets bitten by a mosquito carrying the Zika virus
The bitten person travels to the U.S.
During the week after the bite, a mosquito feeds on that person,
That mosquito then bites someone else.
While this happening is not a given, Petri characterizes the concern that this could happen as "appropriate." After all, this is how Zika has continent-hopped so far. First identified after WWII in Uganda, Zika stayed in Africa for decades — until two years ago, when scientists discovered it in Tahiti. From there Zika made its way to Brazil.
UVA Research: Diagnosing Zika

The challenge of symptomless Zika means that diagnostic tools are critical in controlling the disease. Which is why Petri, along with other researchers, is working on developing a "dipstick" antibody test. "It's a rapid diagnostic test, like a pregnancy test. It would take one drop of blood. Within 5 minutes you know if you have Zika. This would help with outbreak control."
Zika, the Stowaway
Right now, it's easy for Zika to avoid detection. "Because 4 out of every 5 people who get Zika have no symptoms, you might never know you had it," Petri says. Which gives the virus plenty of time to infiltrate a person's bloodstream via a mosquito or through sexual contact.
In women, the infection stays in the bloodstream for a week. This isn't the case for men. "It seems to persist for a longer time in the male reproductive tract. Current CDC recommendations state that if it's clinically evident you contracted Zika, you need to practice safe sex for 6 months. That's the best assurance that you're not going to transmit it to your partner."
Where else does Zika linger? In fetuses, the virus tends to damage nerves in the brain.
In the studies conducted so far, 1 out of 10 of pregnant women have babies with microcephaly (a brain condition that prevents babies' heads from developing properly or growing to full size).
But Zika doesn't just pose dangers to pregnant women. In Tahiti, Petri explains, scientists found a high percentage, more than 1 out of 10, of Zika patients had Guillain-Barré (GB) syndrome. This paralyzing disease, which often weakens feet and ankles, arms or face, disappears after a month — unless it affects your diaphragm and paralyzes you so you can't breathe. Then, GB can prove fatal.
The Lowdown on DEET

A 2015 study showed that the active ingredient in DEET works best in preventing mosquito bites.
When using DEET:

A higher concentration means it lasts longer, not that it's more effective; lower concentrations require more frequent applications.
Apply only to exposed skin and outer clothing.
Instead of spraying your face, use your hands or a cloth.
Keep away from babies less than two months old and out of all children's hands.
Do not spray near food, dishes or utensils.
Preventing Zika
The good news is, when it comes to preventing Zika, West Nile, and any other mosquito-borne infection, simple steps can make a difference.
"One reassuring thing is we know," Petri says, "is how to control this through mosquito-controlling programs. It won't be a huge, out of control epidemic."
What you can do:
Protect your house and yard from breeding mosquitos. Get rid of standing water in tires, tin cans, clogged gutters and other receptacles.
Pregnant or trying to be? "This is not the best time to go to South America," Petri says, "For you or your partner. Delay that vacation."
Wear insect repellant.
Cover your body in light-colored pants and long sleeves.
One fact of note: Unlike West Nile or yellow fever, Zika does not harbor itself in an "animal reservoir." Because West Nile lives on in birds, and yellow fever exists in primates, these diseases can never be fully eliminated, but always have the potential to show up again.
Do You Have Zika?
Symptoms of Zika, if you get them at all, include:
Zika Virus Symptoms or Questions?

Call the Infectious Disease Clinic.
Fever
Rash on your trunk and extremities
Pink eye
If you have experience these symptoms and have traveled abroad and been bitten by a mosquito, Petri advises that you visit a doctor immediately.