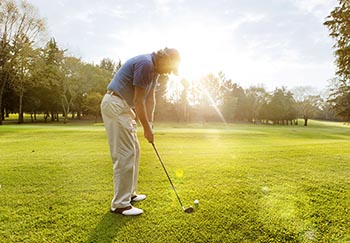 Whether you're a competitive golfer or just getting started, chances are your game will improve after a thorough golf swing analysis. That's where the UVA SPEED Clinic (which stands for strength, power, endurance, education and development) comes in. The clinic offers 3D motion-capture technology for not just golfers but also runners, walkers and bikers.
Services for Athletes: Golf Swing Analysis, Running Injury Assessment
"We've seen people anywhere from 11-84 years old, primarily runners and golfers," says exercise physiologist Max Prokopy, director of the SPEED Clinic. "We see some occasional speed walkers, baseball players, and we're developing some stuff from lacrosse and tennis as well."
While the clinic can improve your stride or golf swing, the biomechanical assessment also helps you and the SPEED Clinic team treat your pain and injuries.
Get A Motion Analysis

Make an appointment at the SPEED Clinic.
"Even your most motivated and seemingly positive people can get themselves trapped in a cycle where they don't think their knee is never going to hurt again," Prokopy says. "Breaking through that is really important. That's where the data really help. We can just clearly show them that, 'This is why your knee is bothering you. It's not like some other crazy thing. You didn't drop out of the airplane,' or some other this kind of stuff. 'This is exactly what's going on and why, and here's what we're going to do about it.'"
In this week's podcast, Prokopy explains what to expect during a SPEED clinic visit and how the 3D motion-capture technology works.
Listen to the podcast: