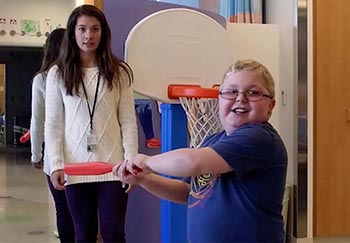 Josh Barney covers medical research news at the School of Medicine. He's a lifelong science nerd, which is a good thing, considering he's overseeing our new blog.
We've launched a new medical research blog highlighting discoveries and breakthroughs from the UVA School of Medicine. It's called The Making of Medicine. As the name suggests, it's intended to give you an insider's view of how the treatments and cures of tomorrow are being pioneered here.
Not only will we tell you about important UVA research studies and their findings, we'll introduce you to the people doing the science and share with you why they're passionate about their work. And we'll do this in a simple, understandable fashion. We'll even let you in on some trade secrets along the way.
For example, we got some questions and even skepticism when we announced that a probiotic commonly available in yogurt reversed depression symptoms in mice. Through The Making of Medicine, we answered frequently asked questions about the finding. When we didn't know the answers, we went and got them from the researchers. This blog can be your direct connection to our scientists as they explore new territory in the field of medicine.
Get Your Front-Row Seat to Medical Research
Better Understanding Medical Research
One of our biggest goals for the new blog is to give you the context that is often missing from medical news and science articles. We want to provide the information you need to appreciate what discoveries mean for patients now and in the future. We want to arm you with tools to cut through hype and tell substance from superficial shimmer. We want to describe the promise of experimental treatments, but we also want to help you understand the potential risks and rewards of participating in clinical trials.
In short, we want to pull back the curtain on medical research and give you a front-row seat to the making of medicine.
We hope you'll check it out.