To commemorate 50 years of transplant at UVA, we'll be sharing stories of our patients that have received organ transplants over the years. Andrea Vest has received two living donor kidney transplants — the first, from her mother in 1968; the second from her daughter, Tarpley Gillespie, in 2003.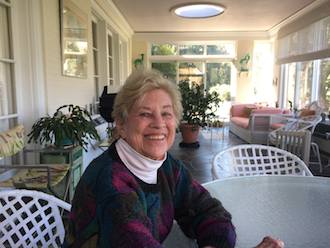 New York Childhood, Charlottesville Connection
At only three years old, Andrea Vest had her first kidney surgery. Throughout her childhood she'd travel from her home in Rye, NY to New York City for treatment and surgeries. She attended boarding school in Baltimore and had an active childhood, swimming, playing tennis and riding horses. In 1955 her father, a UVA alumnus, built a house in Charlottesville, though her parents didn't move full time to Virginia until he retired. Today, Andrea lives in the house her father built.  "He loved it so," Andrea says of her late father's feelings toward the area.
Though she had a normal childhood, at 16, Andrea's health took a turn for the worse. She was hospitalized at UVA, and Albert Paquin, MD, a pioneer in the type of surgery that corrects malformed ureters (the tubes that carry urine to the bladder) performed the surgery that bought Andrea another seven years of decent health.
First of Two Kidney Transplants
In 1967, Andrea was working in New York City when she had another health scare and had to undergo dialysis treatment. A kidney transplant was the only way to save her life. Her mother donated the kidney.
April is Donate Live Month. Find out more about becoming an organ donor. 
It was a difficult and painful procedure for both of them. Laparoscopic surgery, which uses small incisions and is less invasive, hadn't been developed yet, so both Andrea and her mother had to have open surgery. Both of them had long hospital stays. Current rejection and infection medications that make the kidney donation process less risky were years away. Today, kidney transplant recipients retain their old kidneys, but at the time, the removal of the old kidney was yet another surgery Andrea had to endure.
"The recovery then wasn't like it is now," Andrea says.
The kidney her mother donated saw Andrea through two pregnancies and gave her a life that she feels lucky to have. "My kidneys functioned the best they ever did when I was pregnant!" she says. Though she had to take medicine to suppress her immune system, prednisone and other medications, Andrea had a life that she never thought possible for many years.
"Without UVA, I Wouldn't Be Here Today."
In 2003, Andrea got news that she didn't want to hear: Blood tests showed that her kidney function was looking bad, and that she'd need another transplant. Her daughters Alexandra and Tarpley, who were in their 30s at the time, both wanted to donate their kidneys to their mother. After undergoing extensive testing, Tarpley was a match, but Andrea was hesitant. It was one thing for her mother to donate her kidney to her, but she didn't expect her children to do the same. But for the Vest family, this kind of selflessness is common. Alexandra took a month off work to take care of Andrea and Tarpley as they recovered.
Andrea is thrilled to tell her story and wants people in similar situations to know that there's "exceptional care" available for them at UVA. "I wouldn't even consider anywhere else," she says. "Without UVA I wouldn't be here today."