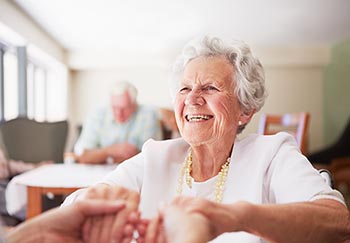 Maybe your mom's having trouble remembering to take her medicine. Or your dad's doctor told him not to drive anymore. Realizing that it's time for a nursing home or assisted living can be overwhelming, between sharing your concerns with your loved one, researching different options and figuring out how to pay for it.
Seki Balogun, MD, is a geriatrician at University Physicians JABA in Charlottesville. She helps families work through these difficult decisions and answered some common questions about elderly healthcare.
Signs It May Be Time for a Nursing Home
Balogun says difficulty performing everyday activities is a warning sign. Doctors call these the activities of daily living (ADLs), and they include:
What's a Geriatrician?

Geriatricians are primary care doctors who focus on older adults. Find a geriatrician in Charlottesville.
Bathing and otherwise maintaining good hygiene
Using the bathroom
Walking and getting around without falling
Food preparation and good nutrition
Driving
Shopping
Managing finances
On top of that, increasing memory loss can create health risks and dangers, such as forgetting to take medicine or turn off the stove.
In-Home Care: A Nursing Home/Assisted Living Alternatives
These challenges don't always mean it's time for a nursing home or an assisted senior living facility, though.
"If your loved one has difficult getting in and out of the bathtub or shower or has recurrent falls, the geriatrician will usually recommend a home physical and occupational therapy consultation to perform a home and fall assessment," Balogun says.
Nursing home alternatives include:
Home modifications, such as shower stools and grab bars
Physical therapy to improve mobility
In-home care
Adult daycare and other day programs
Home healthcare providers can come several days a week, give medications and help with bathing, food preparation and other activities.
Adult Daycare
Adult daycare, where adults spend time at another facility but go home at night, offers more social interaction. But your loved one may need transportation to and from the facility and, possibly, more help at night from family or a paid aid.
Balogun points out that both adult daycare and home healthcare can be expensive, because they're often not covered by medical insurance.
PACE
Another alternative: In Charlottesville, you can also consider Blue Ridge PACE (Program of All-Inclusive Care for the Elderly). Like adult daycare, people who are part of Blue Ridge PACE spend several hours a day outside of their homes. However, they can see a doctor and other health specialists, such as physical and occupational therapists and social workers, at the facility or get access to home healthcare. You must be eligible for Medicare (federal health insurance for people ages 65 and up or with certain conditions) or Medicaid (health insurance for low-income people) and meet other criteria to participate.
When More Care is Needed
But what if your loved one is still struggling at home, or you think she shouldn't ever be alone? If she's capable of making decisions, then you need to have "a candid discussion about the difficulties that you have noticed and the potential for harm," Balogun says.
She adds that your loved one's geriatrician can help with these difficult conversations. The doctor will likely be familiar with the long-term facilities in your community and can recommend ones that will provide the appropriate level of care.
Charlottesville Elder Care Resources

Always involve a geriatrician in conversations about your loved one's care. Other local resources include:

Questions about paying? Learn more about Medicare, Medicaid and long-term care insurance.
Choosing a Nursing Home or Assisted Living Facility
What's the Difference?
"Residents of assisted living facilities tend to have mild cognitive and/or functional issues," Balogun says, though she adds they sometimes have a unit for residents with advanced dementia who can still walk or use a wheelchair.
As such, assisted living facilities typically provide meals and social activities. They help with activities of daily living, such as bathing and taking medications.
Nursing homes, on the other hand, are for people who are frail and usually need a wheelchair or walker to get around. Residents also need more help with nutrition, eating and toileting.
How Do You Pay for Long-Term Care?
"Finances are a big factor in considering long-term care options," Balogun says. In Charlottesville, a year in assisted living costs averages about $56,000, according to AARP's long-term care calculator. A nursing home will run between $75,000 – $85,000.
Health insurance and Medicare don't typically cover long-term care in these facilities or through home health aides. Instead, people may pay through one of several ways:
Long-term care insurance, optional insurance that you purchase before you need it. This insurance reimburses policyholders for up to a certain amount per day.
Out-of-pocket, through savings and other personal assets. Used if you don't have long-term care insurance or you've exhausted how much your policy will pay.
Medicaid, which is only for individuals with low incomes. People who need long-term care become eligible for Medicaid after they run out of money and other assets.
Additionally, "many facilities admit a limited number of residents with Medicaid status," Balogun says. "Some don't accept it at all."
Nursing Home Safety and Social Factors
Balogun recommends visiting several facilities. Talk with the staff and, if possible, residents.
Consider:
Do the residents look happy or unhappy and bored?
Are they doing different activities or just sitting around?
What's the staff-to-resident ratio? Are there enough employees?
The Center for Medicare and Medicaid Services (CMS) conducts periodic site visits to all CMS-certified facilities. Compare safety data between different facilities.