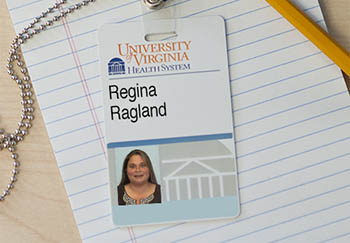 It's 8 a.m. on a Monday. UVA's thoracic cardiovascular (heart and lung) unit feels quiet, aside from an occasional beep from a series of monitors behind the nurses station and the usual Monday morning pleasantries among employees. But it's an "unusual day," hospital nurse Regina Ragland, RN, tells me.
She's reluctant to elaborate for fear of jinxing it, but I think what she means is that at the moment, the unit isn't as busy as it can get. It has beds for up to 30 patients, who typically have had some kind of heart or lung surgery or procedure, including bypasses, valve replacement and lung transplants.
A Typical Day for Nursing
This morning, Ragland, who has been a hospital nurse for almost five years, is the charge nurse. Charge nurses ideally don't have any patients assigned to them, but they:
Find out which patients may be coming to the unit later that day
Assign patients to each nurse, based on the patient's needs
Make sure the unit has adequate staffing
Care for patients while the assigned nurses take breaks
Run "discharge rounds," where the healthcare team discusses patients who are almost ready for discharge and determine their needs at home
When she's not the charge nurse, Regina gets detailed information on her patients from the previous shift's nurse as soon as she arrives at work. From there, she assesses her patients and gives them their medications, explaining each one, which takes some time — transplant patients, in particular, have a lot of medications. She also is responsible for keeping patients' charts and records up-to-date and discharging and admitting patients.
Interested in UVA Nursing Jobs?

Search for a UVA job.
Although there are fewer than normal patients at the moment, this is another typically busy week for Ragland. Besides caring for patients, she participates in various patient care and nursing education initiatives around the hospital. She also needs to study for an upcoming nursing certification test that's part of her job.
But beyond her full-time job, she's also seeking a bachelor's of science in nursing (BSN) degree. This semester, she's in class for three hours and spends an additional two to three hours on homework every week. And this is a light semester.
The Path to Becoming a Hospital Nurse
Ragland hasn't always been a hospital nurse. She grew up in Nelson County, near Charlottesville. After graduating from high school, she worked for 18 years at a mail order company. Starting in sales, she worked her way up to an office manager position and treasurer of the company.
However, she had always been interested in nursing. She cared for family members when they were sick, and it came naturally to her.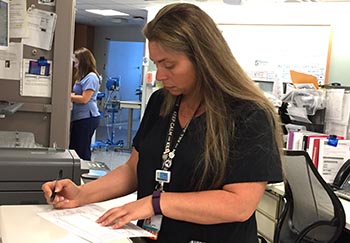 "I didn't pursue higher education after high school, because I really wasn't mature enough to understand the value of education," Ragland says. "As I got older, I had thought about going back to school, but things always got in the way. I finally decided if I was going to get my nursing degree, I just had to jump in, because no time was ever going to be the 'right time.'"
Ragland began taking classes at Piedmont Virginia Community College to get an associate's degree in nursing (becoming an RN doesn't require a bachelor's degree). Because she was also still working full-time, the process took 4.5 years.
"Getting my RN to BSN is actually a little easier than that," she says. Her program is two years, including summer classes, and she'll get her bachelor's in May 2018.
One difference is that as an associate's degree student, she had to get clinical experience on different hospital units. That was how she discovered UVA's thoracic cardiovascular unit. She "fell in love" with it, she says. She loves her patients, who are typically 60-70 years old, and finds the heart and lungs interesting. "I don't want to go above the neck or below the diaphragm," she says.
Ragland always planned to get a bachelor's degree someday, and she started the process almost three years ago. She asked around about RN to BSN programs, and someone recommended the UVA School of Nursing. Before she could even start the program, she needed some pre-requisites, which she mostly took online.
Ragland's obviously busy, but she also finds time for reading, going to the gym and taking care of her three dogs. She enjoys spending time with her colleagues outside of work; about once a month they plan unit outings such as snow tubing.
Why RN to BSN?
Beyond the personal satisfaction and career advantages, multiple studies show that when hospitals have more nurses with BSN degrees, fewer patient deaths and complications occur, and patients stay in the hospital for a shorter amount of time. A widely-cited 2010 Institute of Medicine report recommended that by 2020, 80 percent of the nursing workforce should have a BSN.
UVA shares the same goal for its nursing workforce. As a result:
All registered nurses who are hired after January 1, 2013 are required to get their BSN within five years of their hire date
Once they get the BSN, they're eligible to receive a 3.5 percent pay increase
RNs — and all UVA Medical Center employees — receive up to $5,250 per year toward tuition (PDF).
Since she was hired before 2013, the BSN requirements don't apply to Ragland. But by earning her BSN, she'll become the third person in her family to have a bachelor's degree. "I can show my nieces and nephews that education is a good thing, and it helps you accomplish things in life."
Ragland's already talking about ultimately getting a master's degree. She thinks someday she'd like to be a nurse navigator, someone who follows patients throughout their care, or work in a transplant clinic.