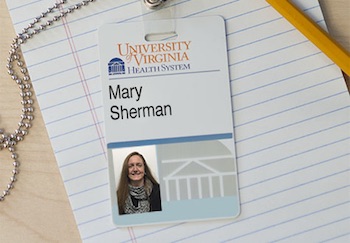 People come to work with challenges: marital problems, interpersonal conflicts at work, parenting issues, elder care decisions. At UVA, we have a free, confidential employee assistance program that can help employees and their family members address these challenges: UVA Faculty and Employee Assistance Program (FEAP).
Mentored by a Leader in Employee Assistance Program Design
"I had a desire to help people in the workplace," says Mary Sherman, a licensed clinical social worker and certified employee assistance professional with FEAP. Sherman discovered employee assistance programs during her master's program at University of Maryland Baltimore, where she studied under Dale A. Masi, a pioneer in EAP design. Sherman joined FEAP in 1996 and has been a professional coach and EAP consultant here in Charlottesville ever since.
Confidential, Free and Wide-Ranging Counseling
FEAP is a free service, and it's completely confidential. "If you come in to talk to one of our consultants, it doesn't go into your electronic medical record," Sherman says. Conversations with FEAP counselors are covered by confidentiality laws.
I asked her what kinds of things prompt people to make an appointment. "People come to us for all kinds of life challenges: stress, difficulty coping, issues with work-life balance; or perhaps someone needs resources to manage a family member's illness."
The goal, Sherman says, is to work with her clients to make a plan to address these issues.
Counseling and Coactive Coaching
When you make an appointment at FEAP, they meet with you to better assess what's going on in your life. "We might find things like major depression, anxiety, an eating disorder or substance abuse," Sherman says. "There are also issues like stress reduction or trauma that people might not think are within the scope of FEAP. "
Sherman says that there's a difference between counseling and coaching, and she sees her role as a blend of both. She focuses on helping you figure out the solution. "In coaching, we believe that you hold the ability within you to address these issues, " she says, describing this approach as coactive coaching. Drawing on the additional training in positive psychology that she integrates into her work at FEAP, "We use neuroscience research and techniques like mindfulness, gratitude practice and cultivating a positive mindset."
Helping People Be in Their Best Space
An employee assistance program benefits both the employer and the employee. When problems crop up in an employee's personal life, it can have an impact on morale and productivity that ripples outward when it's unaddressed. By having such a program in place, these issues don't have to get to that point.
"I think having a beneficial program like FEAP shows that UVA cares about its employees," Sherman says.
One of the things she likes about her job is not having a typical day. It can be filled with:
Seeing new clients
Following up with existing ones
Giving lectures about managing stress
Extolling the benefits of various techniques for stress reduction
Working with other local organizations for which FEAP contracts as an employee assistance program
It's all to get to the same result.
"We are all about helping people be in their best space," she says. "It ripples out to everyone in your circle and beyond."
Need Support?

Get more information about FEAP.
FEAP: What You Need to Know
It's free to all employees and adult family members.
They offer mediation in workplace disputes.
They see couples.
They don't see children under age 17 but will help with parenting issues.
They'll see older children and college students.
They help people manage conflict and talk to their colleagues.
… and they validate parking!