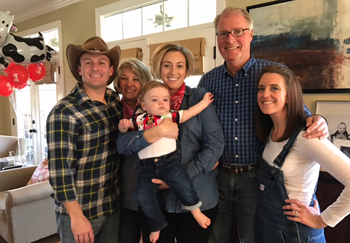 Jim Sarosiek has unique ties to UVA. His daughter-in-law, Bethany Sarosiek, is a development coordinator for UVA's Enhanced Recovery After Surgery Program (ERAS). So, when Jim needed care, he sought it at a place both he and Bethany knew and could trust.
Jim suffers from essential tremor, a movement disorder that displays in uncontrolled shaking of the hands. His first interaction with UVA was in April of 2014. Jim scheduled an appointment with Jeff Elias, MD, because he had heard about UVA's pioneering work with focused ultrasound. They agreed that deep brain stimulation (DBS) was Jim's best treatment option, and it reduced his tremor.
Two years later Jim came back to UVA for DBS revision, and his surgery was cancelled due to abnormal lab values. After numerous tests and a colonoscopy, Jim's lab tests came back with a shocking diagnosis: colon cancer. He was immediately scheduled with Charles Friel, MD, for major bowel surgery the following week.
"I accepted the findings," says Jim, "and I wanted to know what the options were."
Enhanced Recovery After Surgery Program
Although distraught, Bethany provided Jim with support and encouragement. "Having ERAS in place — a program that I've help to develop and has been show to work — that was a huge comfort," Bethany says.
UVA's Enhanced Recovery After Surgery Program (ERAS) was developed to:
Better prepare patients for surgery and make them feel more comfortable
Help patients leave the hospital sooner
Change the way staff manages a patient's pain by limiting the use of opioids and providing alternatives
Reduce a patient's risk for infection and hospital re-admission
Education is a major part of ERAS. Patients receive a handbook that includes in-depth information about how to prepare for surgery, what to expect in the hospital and what to do when they go home. This detailed guide provides simple terms, checklists and graphics to enhance a patient's understanding.
Together, Bethany and Jim felt confident that Jim had the appropriate education to understand his diagnosis and have a speedy recovery.
Surgery Recovery Care
As part of ERAS, Jim began eating and walking as part of his post-surgery recovery, which would ultimately get him home sooner. The day after surgery, Jim ate soft foods, then worked himself up to scrambled eggs just 24 hours later. His surgery was on a Thursday, and he was discharged on Sunday. Due to the benefits of ERAS, Jim was able to eat Thanksgiving dinner with his family at home only one week after surgery.
Jim was also walking through his neighborhood right after he was released from the hospital. Even though he had a little bit of pain, Jim didn't take opioids (just extra-strength Tylenol), because ERAS taught him that they slow down the healing process.
"I could go on and on about how ERAS helped me with my recovery — it really is phenomenal," says Jim.
These days, Jim spends his time golfing and hiking 5-12 miles of mountainous terrain at a time. And he and his wife, Diane, enjoy an active social life with their friends. Jim's confident that Friel got all of the cancer; "I am doing outstanding," he says.