Adults might think that summertime for kids means playing outside and burning lots of calories, but nurse practitioner Susan Cluett at UVA Children's Fitness Clinic says that this isn't always true. "Kids can gain an average of seven pounds during the summer," Cluett says. Whether it's heat, parents' schedules, the inability to find childcare, or the high cost of summer camp, many kids spend their summer days indoors and in front of screens. Plus, the structure of the school year, with its set meal times, physical education classes and recess, is missing from a lot of kids' days during the summer.
Need a pediatric nutritionist?

UVA's Nutrition Counseling Center offers nutritional education and counseling.
Without a predictable schedule, some kids can be sedentary and snack all day. This leads to weight gain. Weight gain like this can foster lifelong obesity and the damaging health effects that go with it. Nobody wants their kids to fall into this trap, but work demands and childcare costs can get in the way of the best intentions.
Healthy Habits at a Glance
There are some simple things that you can do to make sure that your kids are getting exercise and eating healthy food. This summer, try to get your kids eating more colorful fruits and vegetables and make sure their primary drink is water.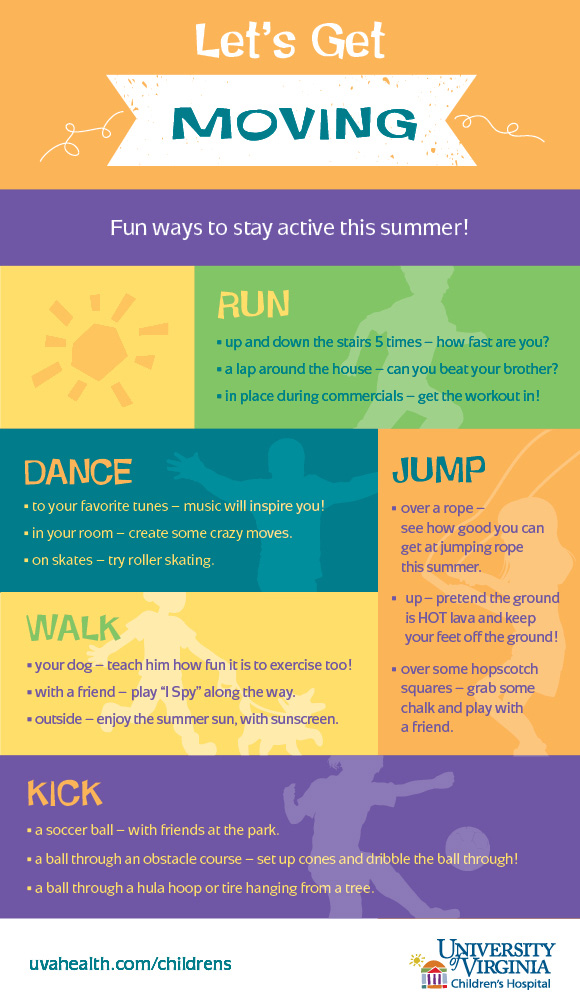 Infographic text: Let's Get Moving
Fun ways to stay active this summer!
Run

Up and down the stairs 5 times – how fast are you?
A lap around the house – can you beat your brother or sister?
In place during commercials – get the workout in?

Dance

To your favorite tunes – music will inspire you!
In your room – create some crazy moves.
On skates – try roller skating.

Jump

Over a rope – see how good you can get at jumping rope this summer.
Up – pretend the ground is hot lava and keep your feet off the ground!
Over some hopscotch squares – grab some chalk and play with a friend.

Walk

Your dog – teach him how fun it is to exercise too!
With a friend – play "I spy" along the way.
Outside – enjoy the summer sun, with sunscreen.

Kick

A soccer ball – with friends at the park.
A ball through an obstacle course – set up cones and dribble the ball through!
A ball through a hula hoop or tire hanging from a tree.