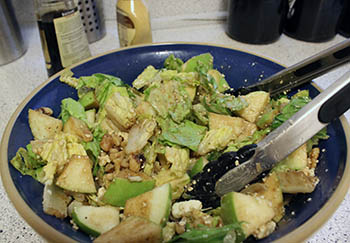 We're trying new heart-healthy recipes and will share the results with you. All recipes are from Club Red, UVA's heart health club for women.
As my colleague Morgan noted in her Star-Spangled Fruit Salad review, food needs to taste good, but we also want it to be Pinterest-worthy. This is especially true when facing the unstated competition of the office potluck. There's always that one person who brings custom-decorated seasonally-themed cupcakes or prepares an entire Food Network-approved hot meal in the office kitchen.
In an effort to display my talents, I decided to test out this salad on my colleagues. It looked like potluck gold: It was healthy but contained fruit and fancy cheese, two things everyone seems to love. At the very least, I'd have 20+ people to give me honest feedback.
Bonuses: The ingredients were relatively inexpensive, about $12, and the salad took about 10 minutes to prepare, including chopping time. I assembled it the morning of the potluck.
Apple Gorgonzola Salad: The Positives
I asked my colleagues to be honest. Everyone seemed to love the taste: "This is awesome," one person said. I'm not a big fan of mustard, but I enjoyed it as well.
Apple Gorgonzola Salad: The Negatives
The dressing turned everything a yellow-brown color, unfortunately the same color as rotting lettuce and old apples. It wasn't Pinterest-worthy, and I felt compelled to justify the color to everyone.
Get the Recipe
Another person said that while she liked the taste, it was hard to get around the apple chunks. Indeed, the apples seemed to dominate the salad.
Although it's tough to address everyone's dietary concerns at these things, one person was unable to eat the salad entirely because it contains nuts.
The Verdict
I'll make this again but with some changes. This recipe really only needs one apple to the five cups of lettuce. Additionally, I'll serve the dressing on the side, for two reasons:
Increase the visual appeal
Improve the quality of the leftovers — the salad got pretty soggy by the next day
Of course, if you don't like mustard, the oil and balsamic vinegar would still make a good dressing, or you could try an Italian vinaigrette.
Stars: 4/5