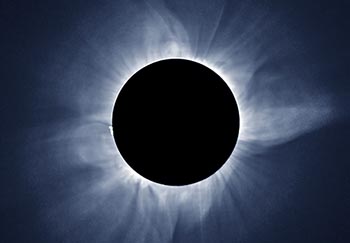 Monday, Aug. 21, will bring a rare, must-see event: The moon will momentarily block the sun from our view. Don't be in the dark about how to experience a solar eclipse safely.
"Like millions of Americans, I'm intrigued by the solar eclipse. But as a doctor, I want to make sure everyone is educated about the proper eye protection. Looking directly at the sun, even for only a few seconds, can permanently damage the eye's retina, even causing blindness," says Peter A. Netland, MD, PhD, chair of the UVA Department of Ophthalmology. "Although the eclipse will not be total in Virginia, eye protection should still be utilized," he adds.
Sunglasses Won't Help During the Eclipse
Keep in mind that ordinary sunglasses, even very dark ones, or homemade filters are not safe for looking at the sun, according to the American Academy of Ophthalmology.
There is only one safe way to look directly at the sun, whether during an eclipse or not: through special-purpose solar filters. These solar filters are used in "eclipse glasses" or in hand-held solar viewers. They must meet a very specific worldwide standard known as ISO 12312-2.
Watch from Inside
If you don't have protective eye gear, you can enjoy live coverage on TV or live streaming on the internet, which is Netland's recommendation. In central Virginia, the solar eclipse will begin at 1:15 p.m. and end at 4:01 p.m.
Safety Tips for Solar Filters
If you do choose to observe the eclipse with special eclipse glasses or solar viewers, be sure to follow these steps from the American Academy of Ophthalmology:
Look for scratches or damage on glasses and don't use them if you see any.
Read and follow the directions that come with your equipment.
Help children to be sure they also use the solar filter or glasses correctly.
Never look at the uneclipsed or partially eclipsed sun through an unfiltered camera, telescope, binoculars or other similar devices, even if you're wearing eclipse glasses or holding a solar viewer at the same time. The intense solar rays coming through these devices will damage the solar filter and your eyes.
To use the glasses or viewer properly:
Before looking up at the bright sun, stand still and cover your eyes with your equipment.
After you glance at the sun, turn away and remove your glasses or viewer. Don't remove it while looking at the sun.