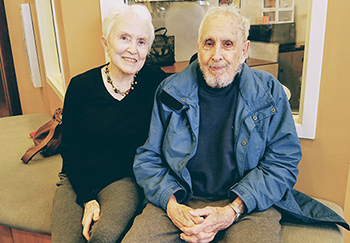 Doctors and patients have all kinds of difficult conversations. How to prepare for aging – aging gracefully – and care for an aging partner or parent is one of those. For Lee Willis and her husband Hal, the conversation started this way: They went together to see their beloved primary care doctor of 15 years, Andrew Wolf, MD, and he asked Lee, point-blank: "Are you prepared for the possibility that Hal may outlive you?"
The question surprised her. At 94, Hal is ten years older. A plane accident broke multiple bones in his legs, and arthritis has settled in. "Walking is hard for him, he used to share fixing meals, now I fix the meals. He does do his own laundry, he washes the dishes," but he doesn't drive and often uses a wheelchair.
Lee, on the other hand, just bought herself a new kayak, the kind built for white water rapids. A nine-year cancer survivor, she relieves pain with exercise, not medicine. She swims three times a week. When not caring for Hal, she's active, traveling and socializing.
Still, the doctor had a point: Be prepared.
"I'm the kind of person who doesn't like to be caught unaware," Lee says. "I realized since I'm Hal's primary care person, we had to figure out what to do if I'm not there."
Facing the Facts of Aging
When Lee and I met, her older sister had died two days before at 93. "She set an example. She stayed at home. She helped me realize that aging is a project, something to manage and make the most of."
Lee sees most of her friends avoiding the subject. "Americans don't face aging and death."
Wolf agrees. "Lee is right that we simply don't face death in a healthy way in this country. Death is as natural as birth, but too many Americans simply don't want to think about it until they are too ill to participate in decision making, leaving family members and their physicians to make decisions that may or may not be what they would have wanted at the end of life."
Lee adds: "We don't talk about it, it's off limits, we don't prepare. I didn't realize, for example, that when it comes to the remembrance thing in the paper, you'd better write it or someone else will write it for you."
And she is definitely the kind of person to take things into her own hands. Lee likes research, data and facts. One of the reasons she values UVA, she says, is precisely because of the continuous research going on. When she was diagnosed with breast cancer, "Dr. Dillon, my oncologist, knew all the research." Still, Lee interviewed surgeons at several hospitals. "A lot of people my age don't know you can ask for a second opinion or interview people. You can."
One of the things that impresses her about UVA, she says, is that they support patients who do research themselves, ask questions and compare hospitals. And she knows that she can trust that UVA has the latest research and knowledge because it is a teaching hospital. "We have to support that. Teaching new doctors is important."
For Wolf's part, "I have to say that taking care of folks like Lee and Hal is a big part of what makes being a primary care doctor such a great joy and privilege."
Finding a Place to Age
The main goal for Lee when it came to preparing for Hal and her own aging was to find a place that could happen.
Lee didn't just do a Google search. She visited dozens of nursing homes. She visited JABA, made lists of in-home care services, and visited each of those.
But Lee wasn't satisfied. "Mainly because of shifting staff. You can never guarantee the same people. The bottom line dictates staffing." This turnover and the resulting lack in a continuity of care, she discovered, is a problem nationally.
"Investigating nursing homes, I found we have several national problems in the healthcare field," Lee says, "With the nursing home situation, it all comes down to profit. They cut back on staffing; they can't go in the red." She calls this "the worst part of our healthcare."
So she looked at the option of aging in place. She volunteered at PACE, which offers 24/7 coverage for anyone qualified for a nursing home. It seemed like "this would probably be what we choose to do," she said.
But then Lee discovered The Green House Project, a new model for long-term care for elders.
In 2001, a doctor named Bill Thomas was appalled at the state of elder care. "He saw it was a hospital, not a home," Lee says. "People just sitting in wheelchairs. So he introduced a lot of changes, brought in birds, dogs, cats, and plants." But it still wasn't enough. So he "super-trained staff to behave like family members, not healthcare providers. And he built a new structure, with one central room, the residents living in rooms off in spokes. It became a communal place, with a common kitchen where people cook family recipes."
And Lee found one in Harrisonburg. "If we both have to go somewhere, this will be it."
Get Healthy Now

Need help getting started with a long-term aging plan? Your primary care doctor can get you started. Find a provider near you.
Aging Gracefully: How to Get Started Now
Wolf's biggest advice: Exercise. "The biggest factor I see that differentiates healthy from unhealthy aging is exercise – folks who remain sedentary clearly become more frail more rapidly than those who either remain or become active in their later years. I see Hal and Lee at the gym on a regular basis, and I can tell you that that makes a huge difference in how they age."
Lee's primary lessons for younger people: Be proactively active. "It's really hard when you're 50 to think about being 80; it's hard to do. But you should." She advises younger people to:
Most importantly, take your health seriously — eat well and exercise.
Prepare for the payment part. "That's what gets most people."
Be an advocate for yourself when it comes to your healthcare.
Get political. Make a difference. Advocate for end-of-life care.