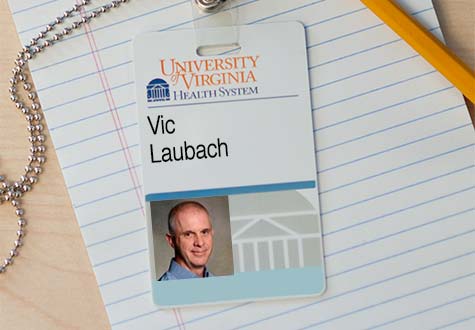 The UVA School of Medicine is home to a plethora of research that looks at medicine in a completely different way. There are many people within the school who aren't involved in patient care at all. Instead, they're inside laboratories and behind computer screens studying how things work and using this information to better the way clinicians practice medicine.
Victor Laubach, PhD, is one of those researchers. His lab strives to understand the causes of lung injury after a transplant, discover ways to prevent these injuries and use these discoveries in patients. Among other things, his lab is further investigating the use of ex vivo lung perfusion (EVLP), a device that takes lungs that aren't candidates for transplant and rehabilitates them into usable organs.
The Foundation for a Career in Research
Laubach earned a degree in biology from Penn State. It was during this time that he laid the foundation for his career in lung transplant research.
"Initially, I wanted to be a zoologist and chase down cheetahs and giraffes in Africa," he said. However, his lab mentor convinced him that the future of science lies in molecular biology. "I also realized that being a zoologist was a much tougher life and career than it looked on television."
Despite hating his Genetics 101 class at Penn State, Laubach chose to continue his education at George Washington University in Washington DC, where he earned a PhD in genetics. Meanwhile, he did graduate research at the National Institutes of Health in Bethesda, where his interest in lung transplant peaked. He studied the gene for alpha-1-antitrypsin. People with this deficiency usually develop lung disease and go on to need a transplant.
After graduating, Laubach worked as a postdoctoral scientist at what is now known at GlaxoSmithKline. He studied cell biology, learned techniques and published several key papers. "My postdoctoral research focused on an enzyme called nitric oxide synthase that generates a gas, nitric oxide, important for many physiological functions in our body, including the lung," Laubach explains.
Two Decades at UVA as a Lung Transplant Researcher
While looking for a lab to continue his career, Laubach fell in love with UVA. "I loved the whole package: location, history, the city of Charlottesville, the academic environment, a strong graduate program, and of course the clinical care, teaching and research aspects of the School of Medicine." He knew his research would have a bigger impact in a place that had the ability to translate it to patient care.
UVA also needed Laubach. At the time, the lab was doing surgical research in lung transplant, but they needed his knowledge of cellular mechanisms of lung injury after transplant. This allowed for Laubach to contribute to existing studies and carve a path for his own independent research.
Advice for Future Generations of Researchers
During his graduate research, Laubach recalls feeling as though he was drifting. He felt like he was wasting his time, and his mentor was not providing adequate guidance.
"I quickly found a new mentor in a different lab at NIH who actually cared about my success," he explains. This is something he suggests to others who may want to pursue a career in research. "The principal investigator of the lab should be a proven mentor and a successful scientist who is very close to the lab research."
Lung Transplant Research at UVA

Want to know more? Watch a video on the lung transplant research that is happening in Laubach's lab.
He also suggests getting a PhD at a university that also has a medical school with a strong research environment, like UVA. Furthermore, surround yourself with a network of colleagues who can help you with your research. Collaboration, teamwork and great mentorship are the keys to success in being a researcher.
Why is Research Important?
"Quite simply, without research everything will eventually grind to a halt," Laubach said. "It would be like a forest that stopped producing seeds. It will eventually die. New ideas and discoveries are the seeds that keep our civilization growing and moving forward."