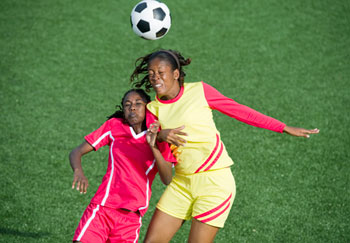 The topic of sports-related concussions has gotten a lot of attention over the last few years. Concussions related to playing football have been an especially hot topic of discussion. There hasn't been much focus on female athletes, however, and the effects that concussions can have on them.
A team of UVA researchers, led by Curry School of Education professor Jacob Resch, recently published a report in the October issue of the journal Clinics in Sports Medicine. The team analyzed around 160 studies on sport concussions in female athletes.
Female Athletes Report Concussions at Higher Rate
What the research showed may surprise you. Resch said the data consistently show that female athletes report concussions at a higher frequency than males. The reasons are still unclear, but the results were true across sports that both males and females participate in, such as basketball, soccer and hockey.
"This information, and learning how to better care for the female athlete, is really important," Resch said. "If you look at women's ice hockey, it's three times the risk of football. But, unfortunately, you don't see media coverage highlighting women's ice hockey, which leads to limited attention."
Making Progress, But More Work to be Done
Think that you may have a concussion?

Find a primary care provider near you or ask your doctor for a referral to our Acute Concussion Evaluation Clinic.
Donna Broshek, MD, a senior author on the paper and UVA neuropsychologist, notes that this type of research helps to make progress in finding more effective treatments for concussion. There is still much more concussion research that needs to be done. Resch adds, "We still have a lot to learn about concussion, period, in addition to how gender may contribute to the injury. At the end of the day, concussions are and should be treated on an individual basis."
More information will help clinicians, athletes and families understand concussion injuries, which in turn informs discussions and allows them to ask better, more specific questions.
A version of this article first appeared on the UVA Today website.