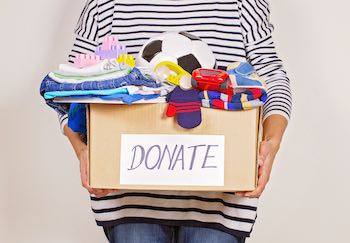 Spring is upon us, and many of us are using this time to declutter and reduce the bulk of unnecessary items in our homes. Once you've identified what you want to remove from your home, the next step is to figure out what to do with it all. If you repurpose some of those items as donations for cancer patients, you could help to ease their treatment journey.
Great Donations for Cancer Patients
There are so many household items you never think twice about that could ease the life of someone with cancer. Instead of donating too much, or wondering if every little thing might be a good donation, consider the items on this list and whether you can spare some for a person who would appreciate them.
Games and Art Supplies
Games can help pass the time, and help caregivers and patients engage with each other when they are waiting together. Similarly, many people turn to creating art, or at least playing around with art supplies, as an engaging and meaningful way to use their time and process their feelings while going through cancer treatment.
Art supplies can include a wide variety of items such as crayons, colored pencils, watercolor sets, sketchbooks, rulers, glue, adult coloring books, scissors and other ephemera people may use in creating art.
Tablets, E-Readers and Magazines
When you're ready to upgrade, consider donating the older model to a cancer patient. These tablets help patients stay connected with loved ones through social media, and watch TV or movies through streaming services. E-readers make it possible for a patient to bring along something to read without having to carry heavy or bulky books.
Similarly, an old smartphone can help patients keep in touch with loved ones and help them pass the time.
Provide current magazines for people to read. Sometimes magazines are easier to read than books because it can be more difficult to dive deep into a story during treatment. The pictures and punchier writing style of magazines can be easier to take in. Older magazines can be included with art supplies for creating collages.
Cozy Blankets and Assorted Clothing
Throw blankets are wonderful during treatment. Fluctuating between being too hot and too cold is frustrating, and a nice throw blanket can really brighten someone's day.
Scarves are a favored way to cover heads that are newly bald from treatment, and old sweatshirts or pajama pants can bring comfort and warmth during long hours in the treatment center.
What Not to Donate to Cancer Patients
Not everything is helpful when it comes to donations. Here are some things that would be better off thrown out or donated to a secondhand store:
Broken things: Unless you are donating this item for a specific patient who enjoys fixing things as a hobby, this is not a helpful donation. Items that don't work will create more stress rather than help relieve it.
Incomplete games or decks of cards: If the game or card deck is insufficient to play the game, it's going to take up space for the patients rather than providing any joy.
Ready to Donate?

University of Virginia Cancer Center accepts donations to benefit cancer patients.
Old, well-loved teddy bears: If patients receive stuffed animals at all, they should be new, so they are not full of dust or other things their immune system would have to fight off.
Dirty or stained items: This is also about the compromised immune system. If you can clean the item before donating, do so; otherwise, the cancer center is not the best destination for this donation.
Strongly scented lotions or candles: Since sense of smell can change during cancer treatment, according to the Cancer Treatment Centers of America, avoid donating things with strong scents that can be difficult for people to deal with while they're going through cancer treatment.
A little extra step to identify helpful items during your spring-cleaning could make a huge improvement in the quality of life for cancer patients near you. UVA Cancer Center accepts gently used donations, or you can find an American Cancer Society Discovery Shop near you.