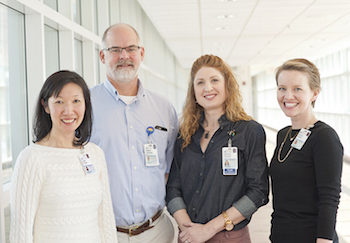 Look closely at the identification badges pinned to the white coats and scrubs of UVA Medical Center staff and you'll see a variety of credentials: MD, DO, NP, PA. You might call it alphabet soup. Unless, that is, you know what all of these letters mean. So what's the difference between DO vs MD or NP vs PA?
In honor of National Hospital Week, we're giving you a crash course in some of the most common healthcare credentials. This will help you make sense of "the soup" and know who's who and who does what.
Who's Who On Your Medical Team?
What is an MD?
An MD is, you guessed it, a doctor of medicine. When you make an appointment to see a physician, chances are this is the person who will be wearing the white coat and stethoscope. An MD practices allopathic medicine, which is the classic form of medicine focusing on the diagnosis and treatment of human disease.
Doctor Training
Becoming an MD requires successfully completing four years of medical school at an accredited institution. Med school graduates then spend anywhere from three to seven years in a residency program. There, they work directly with patients within a specific specialty (pediatric or internal medicine, for example). Some doctors may choose to continue their training within a specialty by participating in a fellowship program.
Prior to practicing within their chosen field, all physicians must pass a three-step examination to obtain their medical license. To practice at UVA, all doctors must also be board certified. This means they have proven expertise in their field of practice and remain up to date with the latest medical advances.
Where They Practice
MD is the most common degree for doctors in the U.S., so you will find them in just about every patient care setting, from family medicine clinics to neurosurgery. Looking to change your doctor? Here are some tips to help make the transition a smooth move.
DO vs. MD: What's the Difference?
A DO or doctor of osteopathic medicine takes a more holistic approach to treating the body, according to Stephanie Allen, director of clinical staff services. Rather than treating symptoms with medication, for example, a DO may provide a more hands-on approach called osteopathic manipulative treatment (OMT). This involves moving, stretching and putting mild pressure on muscles and joints to treat and prevent pain and illness.
You may be treated by more DOs in the future as hospitals incorporate more complementary therapies like meditation and massage into their care.
DO Training
There isn't a whole lot of variation in training when you compare a DO to an MD. Both attend medical school, complete a residency and possibly a fellowship, and pass multiple exams to obtain a license and certification to practice medicine. However, a DO attends a different type of medical school. There aren't as many medical schools for DO degrees, and students spend many hours training in OMT.
Where They Practice
Although a DO may choose to practice in a variety of clinical settings, these doctors most often work in the fields of family medicine, anesthesiology and pain management, says Allen.
Is MBBS a Medical Degree?
Medical doctors who complete their medical training overseas may obtain a bachelor of medicine, bachelor of surgery (MBBS) degree. This is a more general medical degree that qualifies a doctor to see patients in his or her home country. However, to practice medicine in the U.S., a doctor with an MBBS degree must fulfill additional requirements.
MBBS Training
To practice in the U.S., doctors with an MBBS degree must complete a residency program, as well as a fellowship if they choose to specialize in a particular field. They must pass U.S. medical licensing exams and get certified by the Educational Commission for Foreign Trained Medical Graduates. At UVA, doctors must also obtain board certification.
Where They Practice
A doctor with an MBBS degree may practice in any clinical or surgical area. "These doctors have the same training and meet the same criteria as others practicing at the Health System," says Allen.
Need a New Doctor?
What Is an NP?
A nurse practitioner (NP) is a registered nurse who has received specialized education and training in clinical practice. NPs are nationally certified and state-licensed to examine, diagnose, and provide treatment to patients. "Many studies have demonstrated that nurse practitioners provide safe, quality, effective care," says director of advanced practice providers Korinne Van Keuren, DNP.
NP Training
To become an NP, individuals need to earn a master's degree or and/or complete a doctoral (PhD) program or a doctor of nursing practice (DNP) program. A PhD or DNP degree is the highest level of training for an NP.
Where They Practice
"The professional category of NP has been in existence since the 1960s, and NPs have become an integral part of the clinical team," says Van Keuren. Most NPs specialize in a particular area, such as geriatrics, pediatrics or acute care. Patients may see nurse practitioners in a variety of settings, including the intensive care unit and acute care, and in outpatient clinics, such as oncology and primary care.
Beginning in early 2019, NPs with five years of clinical experience will soon be able to apply for a license to practice independently in Virginia. Independent practice for NPs has already been implemented in 22 other states and the District of Columbia. UVA is working to determine how this change will be rolled out throughout the Health System, according to Allen.
What Is a PA?
A PA, or physician assistant, is a nationally certified, state licensed provider who is trained to diagnose, assess and treat patients. They are also licensed to prescribe medications.
PA Training
Most PA programs require applicants to have two years of college coursework before applying to PA school, and many require prior healthcare experience such as a previous position as an EMT or a paramedic. PA programs usually award a master's degree and include classroom instruction as well as clinical rotations.
Where They Practice
You may encounter a PA in an intensive care unit or in surgical areas, such as orthopedics or thoracic medicine. A PA may also treat patients in an ambulatory or outpatient clinic.
There are many other roles with the healthcare environment not mentioned here that play an important part in your overall care. It's important that you feel confident in the care you're receiving, so if you have questions about a provider's qualifications or background, just ask.