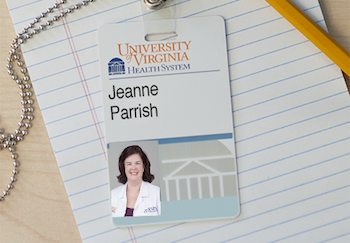 When Jeanne Parrish, DNP moved back to Virginia after living in Florida for 12 years, she wanted to continue working as paramedic, a job she loved. But it would have been a major pay cut.
"I was shocked!" says Parrish, of how much lower salaries are for Virginia paramedics compared to Florida. So instead of remaining a paramedic, Parrish pursued a nursing degree and worked in emergency medicine and then in surgical trauma intensive care units.
While working in emergency medicine, Parrish decided that she wanted to become a forensic nurse. She has worked in the field ever since, earning an MSN and in 2014 a doctor of nursing practice degree.
As forensics coordinator/nurse practitioner at UVA's Emergency Department, Parrish has built a team of seven forensic nurse examiners who provide medical care, support and evidence collection for people who come into the Emergency Department having suffered assault.
Parrish and her team work with people who require treatment for the following:
Domestic violence
Sexual assault
Child sexual abuse and physical abuse
Elder abuse
"Our volumes are exploding," Parrish says, and, from her perspective, this is a good thing. "It doesn't mean that there's been an increase in abuse and assault," she explains. "It means that more people now know how to get care."
One exception is reports of elder abuse. Parrish believes that incidents of elder abuse are underreported.
If You Suffer Assault

UVA forensics services can provide medical care, support and evidence collection. Find out more.
Combining the Medical and Legal Worlds
"After an assault, get medical care as soon as possible," says Parrish. In the Emergency Department, you will receive treatment for injuries and, if needed, testing, screening and/or treatment for:
HIV
Pregnancy
Sexually transmitted infections
While medical care is the most urgent need, in assault cases, law enforcement may also be involved. Medical care providers like forensic nurse examiners are mandatory reporters—meaning that they must report to law any instances of:
Suspected child abuse — physical or sexual
Suspected elder abuse
Penetrating trauma — shooting or stabbings
In cases where a person over the age of 18 reports domestic violence or sexual assault, it is up to the patient whether they want to involve law enforcement or not. A forensic nurse examiner can collect evidence, provide evidence to law enforcement and often will be called to testify in court.
"It is completely up to the patient," says Parrish. "We work with Commonwealth's attorneys, so we can explain both the legal and medical side to the patient."
Becoming a Forensic Nurse Examiner
You have to be a nurse for two years to start training to become a forensic nurse examiner. "We find that emergency department or intensive care unit backgrounds are best," says Parrish. She stresses that it's an emotionally demanding job, with night calls and dealing with people experiencing trauma. Another big part of the job is testifying in court.
As a nurse practitioner, Parrish not only provides immediate care in the emergency department, she also provides follow-up care. This continuity of care makes the assault survivor more likely to continue medical and follow up care for their injuries.
Parrish loves the job and loves her team. The biggest thing that she wants people to know is that she and her team are here to provide support to anyone who has endured assault.
"We put the patient first," says Parrish. "If you've suffered assault, you need care," she says. "We're here for you."