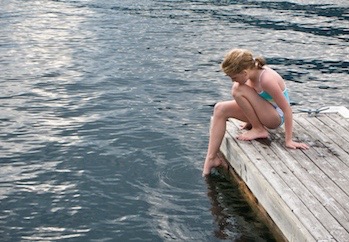 On a hot summer day, there's no greater escape than your favorite swimming hole. But before you dive in, be aware that there are water safety hazards that could put you and your family at risk for accident, illness or injury.
Drowning Prevention
The greatest risk any time you're near the water is, of course, drowning. This is true for kids in particular. Drowning is the second leading cause of accidental death among children ages 1 to 14. The devastating news this month about the drowning death of Olympian skier Bode Miller's 19-month-old daughter is a reminder of just how quickly it can happen.
Here are a few important water safety tips:
Supervise children at all times when near a body of water.
Keep kids under age 5 within arm's reach.
Don't depend on swimming aids like floaties; opt instead for approved flotation devices, especially when in open water or on a boat.
Know the signs of drowning (they aren't always what you think).
Learn CPR.
Get your kids swimming lessons (and you, too, if needed).
"With adequate supervision, swimming instruction and public education measures, it is estimated that 85 percent of drownings can be prevented," says Chris Holstege, MD, who specializes in emergency medicine and pediatrics.
Another Water Safety Hazard: Recreational Water Illness
According to the Centers for Disease Control and Prevention (CDC), there has been an increase in the number of recreational water illness (RWI) outbreaks in recent years.
The culprit: germs or chemicals lurking in the water we swim in, which can cause a variety of issues:
Skin problems
Diarrhea
Ear infections
Eye infections
Neurological problems
Take precautions depending on the body of water.
Pools and Hot Tubs
If you're lucky enough to have your own pool or hot tub, you have control over how it's maintained and who takes a dip. But for those who frequent public pools, there's no guarantee that the water is clean and safe for a swim. "It's possible for bacteria to spread from person to person in the water," says pediatric infectious disease physician Debbie-Anne Shirley, MBBS.
Lesson number one is never swim in a pool or bathe in a hot tub that hasn't been treated with chlorine, says Shirley. However, chlorine doesn't have an immediate effect, and some of these germs are chlorine-resistant.
According to the CDC, a stubborn germ called Crypto (Cryptosporidium) is the leading cause of swimming pool-related diarrheal illness. With this in mind, Shirley recommends these steps to limit the spread of bacterial illnesses via the water:
Do not swim if you have diarrhea
Shower before entering the pool
Do not swim if you have an open wound
Do not swallow water
Ensure young kids wear a waterproof diaper
Encourage kids to take frequent bathroom breaks
Don't linger too long in hot tubs (a risk for hot tub folliculitis, a condition that causes inflammation of the hair follicles because of a bacteria commonly found in hot tubs)
Worried About Keeping Kids Safe This Summer?
Freshwater Lakes and Ponds
If you're swimming in fresh water like lakes, rivers and ponds, pollution is a concern, especially during rainy periods. When water levels are high, runoff from the surrounding banks can contaminate water with sewage, insecticides and other chemicals. Take note of the water's surface (if it looks oily or stagnant, stay out), as well as all posted signs and warnings prior to jumping in for a swim.
Bacteria are also a concern in fresh water. One in particular, Aeromonas, is very common and can be life-threatening for some people. If you have a deep cut on the skin, the antibiotic-resistant bacteria can invade parts of the body not accustomed to fighting off these invaders. The bacteria multiply and cut off blood flow to parts of the body, which destroys skin, fat and muscle tissue; hence, the name "flesh-eating" bacteria.
These cases are rare, but they do happen. To be safe, it's best to stay out of the water if you have a deep puncture wound or scratch until the wound is healed.
Another fresh-water nuisance you can file under extremely rare but scary nonetheless: Naegleria, aka "the brain-eating amoeba." These microscopic critters thrive in the soil of warmer waters. Should you stir up the dirt and dive into the water, an amoeba may enter the nose and travel to the brain.
"This causes primary amoebic meningitis, which is rapidly fatal and there is no treatment," says Shirley. "Keep in mind there are less than five to 10 cases of this every year. But if you are swimming in a warm lake, you may not want to stir up the sediment or submerge your head. Or consider wearing a nose clip or holding your nose."
Salt Water
Aside from the many sea creatures swimming alongside you in the ocean, you may encounter similar pollutants and bacteria as those found in fresh water. "Some bacteria in salt water cause similar problems to the (flesh-eating) Aeromonas," says Shirley. "If you're in the water with an open wound, these bacteria can get into the skin more easily."
One type of bacteria in particular found along the Gulf Coast of the U.S. can cause cellulitis, which is life-threatening. "It's not super common — we get a call once a summer — but it is scary because you get sick rapidly," says Shirley. If caught early, this infection can be treated with antibiotics or surgery, so be sure to mention to your doctor if you've been swimming in salt water prior to becoming ill.
Also keep in mind that swimming in the surf has its own unique challenges. So before you venture out into the waves, be sure you:
Know to respond to crashing waves and rip currents
Always swim where a lifeguard is on duty
Avoid diving headfirst into the water
Obey posted guidelines and restrictions.
"The fact remains that injury and drowning are much more common than infections from the water, so be vigilant," says Shirley. "Supervise your children and learn CPR — this can save a life."