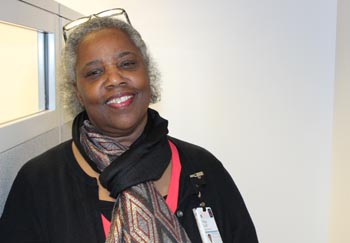 I've known Peggy Scott for most of the 12 years I've worked at UVA. With her brilliant smile and gentle demeanor, she's the kind of person who instantly brightens your day, and I love seeing her in the hospital hallways. But I always had a hard time keeping track of her actual job.
That's because, I found out, she tries a new role about every five years so she's always learning and feeling challenged. As she talks me through her various positions over the last 28 years, she keeps saying one thing about all of them: "Loved it."
Scott, a cancer clinical trials recruitment and outreach specialist, works with cancer patients, focusing on those who have breast or genitourinary — prostate, bladder, testicular and ureter — cancers. If there's any chance patients are eligible for a trial, even if it's not at UVA, she wants to be sure they know it.
Minority Trial Participation: A National Problem
Just 6 percent of participants in cancer clinical trials are African-American, and another 2.6 percent are Hispanic, according to one study. And the NIH reports that minorities account for fewer than 10 percent of patients enrolled in clinical trials. These numbers also reflect reality in cancer trials at UVA, where minority participation hovers between 5 to 10 percent, Scott says.
Meanwhile, U.S. Census Bureau information indicates the U.S. is becoming more diverse. According to 2017 numbers, about 23 percent of the population identifies as non-white or mixed race.
These discrepancies worry Scott. They mean that if a cancer clinical trial results in a new medication, device or other treatment, the people who will get that treatment for years to come may be very different from the ones who tested it.
Hypothetically, "we're not sure how those medications interact with the systems of an African-American or an Asian or a Latino when they're only 2 percent of the trial," Scott says. "You don't get a good sample of what to expect."
UVA Cancer Center is recruiting for approximately 110 trials right now. Scott's trying to make sure patients, especially minorities, know about them.
Why are Cancer Clinical Trials Important?
Every prescription or medical device that you take by mouth or that goes in your body has been through a rigorous clinical trial process. Trials ensure that drugs and devices are effective and that the benefits of using them outweigh the risks.
The U.S. National Library of Medicine, which runs a national trials database, notes that trial participants "receive specific interventions according to the research plan or protocol created by the investigators. These interventions may be medical products, such as drugs or devices; procedures; or changes to participants' behavior, such as diet."
But without adequate participation, the trial can't move forward. Scott focuses on increasing that participation, particularly among underserved individuals and minorities.
Building Trust Among Cancer Patients
Some patients may live several hours away and have limited means, so they could need help with:
Childcare or elder care
Transportation
Lodging
Food
Scott works with social workers, local American Cancer Society liaisons and her colleagues to remove as many of these barriers as possible. For example, the Cancer Center Research Office sometimes helps with hotel expenses, while social services may help with transportation vouchers.
Clinical Trial Resources

Questions about trials? Check out:
However, trying to talk to patients after diagnosis is challenging. "Patients aren't able to think about what to ask. They can be so overwhelmed by what they've been told."
So she tries to get in front of people while they're still healthy, setting up tables at community events, such as the African-American Cultural Arts Festival, in and beyond Charlottesville. In her first five months of work, she participated in about 10 events.
"I've been to churches. I've been to barbershops," Scott says. "That's what I love about this. I get to go into communities."
There, she's reminded of two problems. One, most people don't hear about cancer clinical trials, even after a diagnosis. For example, she met with 15 people at one event. "About five had had cancer, and none of them had been told about any trial possibilities."
Second, "there's a huge sense of mistrust in the community of research."
Why mistrust? It comes down to a couple of myths, Scott says.
"I'm Going to be a Guinea Pig. I'm Going to be Experimented on"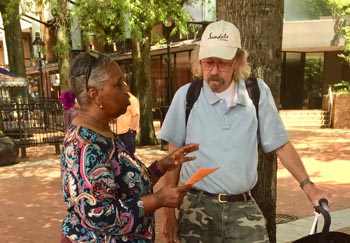 The U.S. Food and Drug Administration regulates clinical trials. Closer to home, UVA's Institutional Review Board for Health Sciences Research reviews all UVA research involving people, ensuring that it's ethical and safe.
If you express interest in a trial, you'll go through a process of informed consent. During this, you'll talk to your doctor, a team care coordinator and the research coordinator. They'll outline exactly what will happen and the risks and benefits.
"Everyone is educating you about this trial," Scott says. "Patients are given the consent to review, take home, come back with questions, call with questions. We encourage you to take time to decide if participation is something you desire. Care is the same whether you go on the trial or decide against it."
If you agree to start the trial, you can also leave it at any time you wish. Participation is totally voluntary.
"This Will Make Me Sicker"
In some trials, researchers might give you a placebo, a benign substitute for the drug being tested. They do this so they can compare patients receiving the drug to those not and evaluate whether the drug is truly effective.
But in cancer studies, patients won't receive placebos if there's an already-established standard treatment for their condition. So if you enroll in a trial, even if you don't get the drug the trial is studying, you'll get the same treatment your doctor would prescribe anyway.
"Patients don't know that, so educating them about that is so vitally important," Scott says.
She adds: "It's invaluable to work to debunk the myths and untruths regarding research but in a sensitive and factual manner. This is a primary focus for me in the communities I serve."
Staying Fresh: Scott's Career at UVA
Scott grew up in Albemarle County and has lived in Maryland. She loves central Virginia for its "family-focused values and seasons," and it eventually drew her back. She raised her three children in the area and now also has seven grandchildren.
Cancer Diagnosis?

Search for trials:
Scott started her career working as a teacher's assistant in the Albemarle County school system. When she started taking classes for a teaching degree, she instead became drawn to Piedmont Virginia Community College's nursing program. She got in and loved it. Later, she got her bachelor's in nursing (BSN) through a distance learning program at Old Dominion University.
The education gave her the chance to work in many other areas of UVA Medical Center:
Rehabilitation
Neurosurgery
Neurology
Gynecological cancer care
Hematology oncology
Utilization review (ensuring patients meet insurance criteria to stay in the hospital)
"I knew that I wanted to stay fresh and committed to growing wherever I worked," she says. "So I found myself changing roles about every five years and made that a practice for me, knowing that I could contribute a lot and learn a lot in five years. I wanted to be sure I never became stagnant or got to a place where the work was boring or the work was no longer challenging or interesting."