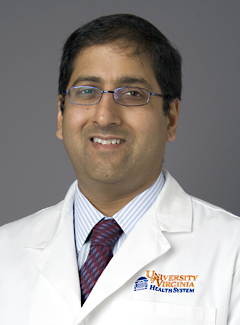 Shiv Khandelwal, MD is a radiation oncologist at Novant Health UVA Health System Culpeper Medical Center. He treats patients with various types of cancers, including:
Thyroid cancer
Prostate cancer
Salivary gland cancer
Oral cancer
Head and neck cancer
Breast cancer
Meet a UVA Radiation Oncologist
1. Why did you become a doctor?
My dad was an engineer and had been steering me towards an engineering career. He died when I was in high school, but I decided to continue that path. As an engineering major at Virginia Tech I opted to do a minor in biomedical engineering, which required a clerkship at McGuire VAMC in Richmond. I enjoyed working in the hospital and caring for patients. After completing my degree, I went straight to medical school. Although I never worked as an engineer, I think that the education I received as an undergrad taught me how to think critically, problem-solve and be a better doctor.
2. Why did you choose your specialty?
I did a radiation oncology elective in my last year of med school and fell in love with it. Radiation oncology provides a great mix of patient care, science and critical thinking. We get to know our patients very well and interact with them regularly over a prolonged period of time. Administering radiation is much more similar to surgery than it is to administering drug treatments, and the anatomic-based treatment design suits me. We have to think about treatment plans; design treatments on a computer, which I liken to playing video games; figure out how to best and most safely prescribe radiation to tumors; and then help patients navigate the process and side effects of treatment.
3. What is your favorite thing about Charlottesville?
Charlottesville has been my home for 13 years. I have always enjoyed college towns and Charlottesville has more to offer than any other city its size. Its physical beauty, outdoor recreation, cultural offerings, and diversity make living in Charlottesville a privilege. The many close and intellectually stimulating friendships my wife and I have made there make it a place we would like to stay. The fantastic wines help cement that desire.
4. Where did you grow up?
Wisconsin, Palo Alto, California and Richmond. I lived in Green Bay the last 2 years Coach Lombardi was there and, after 35 years on the waiting list, became a Packers season ticket holder in 2013!
5. What's the most exciting thing/research happening in your field right now?
There are many. Amongst the most exciting include developing techniques to adapt radiation dose distributions to daily changes in tumor size and shape to further narrow the size of radiation targets and thus better protect normal tissues, to increase the amount of dose being given each day. This can shorten treatment courses and in some cases increase effectiveness, determining at a molecular level how cancers develop, and how to utilize the immune system to kill cancer cells.
Radiation Oncology in Culpeper

Get treatment for cancer and many other conditions at Novant Health UVA Health System Culpeper Medical Center.
6. Who is your inspiration or hero?
One hero was my dad who left Calcutta (now Kolkata) at age 17 to attend the University of Iowa. He had to work his way across two oceans serving on a merchant marine vessel. He eventually got a PhD in chemical engineering and became the chief process engineer for Philip Morris, heading a division of about 200 employees.
Another hero was Dr. Rupert Schmidt-Ullrich, who came to MCV (now VCU) as the chair of radiation oncology in 1988. He was a tough but visionary scientist and physician who turned the department there into one of the best in the country.
Both the above men died prematurely of colorectal cancer, but both were remarkably accomplished anyway.
7. What's your favorite thing about working at UVA?
The camaraderie and intellect of my co-workers and associates, and the deeply knowledgeable medical school faculty who serve as an inspiration and resource for how we can better improve the quality of life of patients.