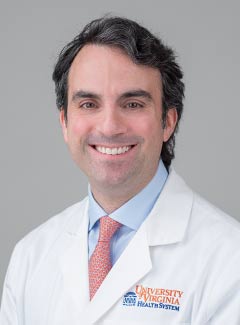 Christopher Moosavi, MD, is an interventional radiologist at Radiology Vein and Vascular Care Gainesville. He performs minimally invasive procedures to treat many conditions, including:
Blood clots in the legs
Peripheral vascular disease
Cancer
Meet a UVA Interventional Radiologist
1. Why did you become a doctor?
As the son of a physician, I was exposed to medicine at a young age. I was drawn to medicine after seeing the positive impact that physicians can have on their patients. Science was also stimulating to me intellectually, so becoming a physician seemed like a good fit.
2. Why did you choose your specialty?
I initially started a career path in surgery, but became interested in interventional radiology early in my surgery residency. Interventional radiologists (IR) are able to use minimally invasive techniques to treat diseases or illnesses that would have otherwise been treated with open surgery. This concept is still fascinating to me.
3. What is special about UVA's new clinic in Gainesville?
We have a diverse skill set amongst the IR physicians, which allows us to treat a wide variety of ailments that are often encountered in a interventional radiology practice.
4. Where did you grow up?
I was born in northern California. At an early age, we moved to the northeast, and I grew up in upstate New York.
Interventional Radiology in Northern Virginia

Get treatment for varicose veins, uterine fibroids and many other conditions at Radiology Vein and Vascular Care Gainesville.
5. What's the most exciting thing/research happening in your field right now?
Image guided oncology therapies.
6. Who is your inspiration or hero?
My father.
7. What's your favorite thing about working for UVA?
The staff. They are always striving to provide the best possible care to the patient.