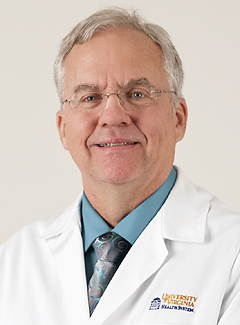 Donald Dudley, MD is an OB-GYN at UVA Health System. He specializes in maternal-fetal medicine and treats patients who may have suffered from pregnancy loss or miscarriage and other pregnancy complications such as:
Gestational diabetes
HELLP syndrome
Pre-eclampsia
Preterm labor
Meet a UVA OB-GYN
1. Why did you become a doctor?
I sought a career where I could help people and have a rewarding experience in helping them.
2. Why did you choose your specialty?
I love taking care of pregnant women and helping them to have a successful pregnancy.
3. What is your favorite thing about Charlottesville?
I love the sense of history and tradition here.
4. Where did you grow up?
I grew up in Beaumont, Texas.
Maternal Fetal Medicine at UVA

Get care for a high-risk pregnancy at UVA's Maternal and Fetal Medicine Clinic.
5. What's the most exciting thing/research happening in your field right now?
We are unraveling new ways to manage complicated pregnancies in hopes of improving outcomes.
6. Who is your inspiration or hero?
My grandfather who was an old country doctor in small town Texas.
7. What's your favorite thing about working at UVA?
I love the incredibly collegial atmosphere here.