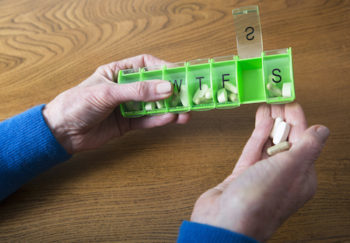 With chronic conditions like heart disease and diabetes on the rise, it's rare to meet someone over 60 who is not taking some type of prescription medicine. In fact, among people in the U.S. ages 62-85, more than 30 percent take five or more prescription medications regularly, according to a recent survey.
This is called polypharmacy, explains clinical pharmacist Bethany Delk. Although we're fortunate these drugs are available to keep chronic conditions in check, the medications themselves can be a health risk if they're not managed appropriately. "Without proper oversight, patients taking multiple medications are at greater risk for adverse events," says Delk.
Risks of Polypharmacy
Taking multiple medications can lead to:
Dosing errors
Harmful drug interactions
Drug toxicity or adverse reactions to a drug
Improper usage
To avoid these and other potentially dangerous risk factors, it's important for you to adopt smart strategies to manage your medications appropriately.
Tips for Medication Management
Looking for a reliable pharmacy?

Contact the UVA Pharmacy, the only Charlottesville pharmacy open 24/7.
As the lead pharmacist for the UVA Geriatric Polypharmacy Clinic at University Physicians JABA, Delk works with patients 65 and older to ensure they are taking the right meds the right way at the right time. "Patients who come to our clinic will meet with a pharmacist and a geriatrician at their initial visit, which can last up to an hour," says Delk. "We discuss each of the medications prescribed to them. We determine if there's any overlap. And we identify any side effects they may be experiencing and look for opportunities to discontinue medications if possible."
Delk's tips for patients include:
Keep a list of medications. Be sure this list is current, comprehensive (including the name, dosage and reason for taking) and accurate prior to every doctor visit. Bring a copy with you to each appointment. And keep a copy with you, either a hard copy or electronic, in case you ever get admitted to the hospital unexpectedly.
Ask questions. It's ok to ask your provider why a drug is necessary and if there are side effects. You should also question whether there are opportunities to take away a medication your provider previously prescribed.
Stick with the same pharmacy. Using the same pharmacy for all of your prescriptions allows the pharmacist to see the big picture. It makes it easier for him or her to spot potential problems or duplications. Also note that many pharmacists have appointments available for a full review of medications. Be sure to take advantage of that resource if you need it.
Discard medications properly. If you no longer need a drug, be sure to move the pill bottle to a new location away from your other medications until you can dispose of it properly. The UVA Pharmacy has a drug take-back box available 24/7.
Stay organized. Use a pillbox to make it easier to remember what to take when and how often.
Do what works for you. Put a sticky note on the fridge. Set an alarm on your phone. Find a strategy that helps you remember to take your meds on schedule.
How to Handle Drug Recalls
This past summer, the Food and Drug Administration issued a recall of several medications with an ingredient used to treat high blood pressure. Before that, the FDA recalled the EpiPen®. While these types of recalls may put consumers on edge, pharmacy supervisor Justin Vesser says it's important to get the facts before you clean out your medicine cabinet.
"Drug recalls happen all the time; however, there are different levels of recalls. Typically there is no health threat, so a manufacturer may just advise us to send back whatever we have left on the shelf. Rarely will we have to notify a patient of a recall, but there is a process in place if that's necessary," he says.
Pharmacies receive an alert indicating how to respond to a recall, whether it is an FDA recall or a voluntary recall initiated by the manufacturer. Then, if necessary, the pharmacy will notify affected patients either by mail or by phone. Often, the recall will apply to a select lot of drugs — not all. That's why it's important to talk to a pharmacist before you stop taking a medication.
"If you hear about a recall, contact your pharmacy," says Vesser. "We can tell you if your medication is included in the recall and how to proceed."