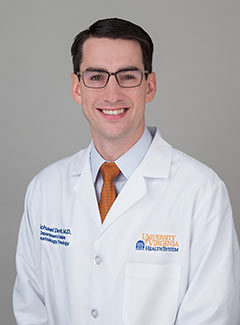 Michael Devitt, MD, is a hematologist/oncologist treating patients with cancers of the prostate, bladder, kidneys and testicles. During his fellowship, he received a grant for his research of the effects of chemotherapy on the immune system in patients with lung cancer.
Meet a UVA Hematologist/Oncologist
1. Why did you become a doctor?
I always had a love for science growing up, especially biology. Becoming a doctor allowed me to continue exploring and applying the biological principles to patients. I was also drawn to the relationships developed between a doctor and a patient.
2. Why did you choose your specialty?
I chose oncology because it magnifies all the reasons I became a doctor. The relationships between me and my patients are incredibly special, challenging and rewarding. In addition, the rapid pace of drug development in oncology has been driven primarily by a better understanding of the biologic drivers of cancer. Which is something that I wanted to be a part of.
3. What is your favorite thing about Charlottesville?
If I only have to pick one, it's the people. I've felt at home here since the first time I visited for an interview at UVA in 2011. That is due completely to the great people that make up Charlottesville. The food is a close second.
4. Where did you grow up?
I grew up in Marion, Indiana. True to stereotypes, my childhood home was surrounded on all sides by cornfields. I stayed in the Hoosier state through college and medical school. I attended the University of Notre Dame and Indiana University School of Medicine.
Living With Cancer?

Cancer is difficult for the patient and family members. Our goal is to offer cancer support and education.
5. What's the most exciting thing or research happening in your field right now?
So much is happening in oncology that it is hard to pinpoint any single thing. Discoveries in how genetic alterations drive cancer growth. Whereas, looking into cancer cells evading the immune system have led to the development of two classes of cancer treatment: targeted therapies and immunotherapy.
While traditional chemotherapy still plays a role in the treatment of many cancers, we are starting to move away from a "one size fits all" approach with the goal to treat towards more personalized medicine.
6. Who is your inspiration?
My wife and kids. They motivate me to be the best husband, father, and physician that I can be.
7. What's your favorite thing about working at UVA?
My colleagues. The people are what drew me to UVA in the first place and are the reason I have stuck around. It is hard to leave a place where you are work with friends.