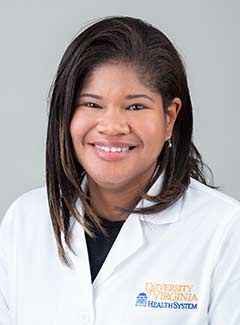 Sherita N. Chapman Smith, MD, is a neurologist, dual-certified in general and vascular neurology within the stroke division. She helps patients prevent and recover from all types of strokes. Chapman currently serves as co-chair of the Virginia Stroke Systems Task Force.
Meet a UVA Neurologist
1. Why did you become a doctor?
My mother worked at a primary care outpatient facility, and I spent many hours after school there. Spending time in the office is what sparked my interest in the medical field. The idea of helping others regardless of circumstance felt rewarding.
2. Why did you choose your specialty?
I went to medical school thinking I was going to be a Pediatrician. However, my three favorite rotations were neurology, internal medicine and cardiology. Vascular neurology is the one field that combines those areas in clinical practice.
3. What's your favorite thing about Charlottesville?
The laid back, friendly atmosphere. I also enjoy the quirkiness of the area.
4. Where did you grow up?
Emporia, Virginia
5. What's the most exciting thing/research happening in your field right now?
Vascular neurology is growing rapidly as a field. I feel the most exciting area of research in my field is related to the introduction of conducting research in the prehospital setting (i.e. ambulance). It was recently demonstrated that we could successfully conduct acute stroke trials in the prehospital setting which opens many possibilities.
6. Who is your inspiration/hero?
My grandparents. They manage to do so much with so little.
7. What's your favorite thing about working at UVA?
The collegial environment.