Meet Ollie. He joined the world on Christmas morning in 2009, part of a litter of clumsy paws, wet noses and furry ears. Ollie and his mom, Barbara, joined our therapy dog team more than two years ago.
Because of Ollie's exceptionally calm demeanor, he's the only dog allowed in the hospital's psychiatric unit. He also visits the post-surgery with more patients and nurses.
My Name is Ollie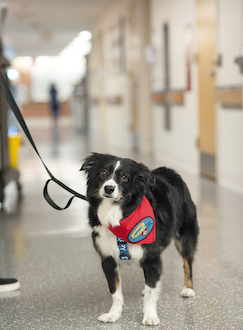 Hi, I'm a therapy dog at UVA Health System. I am a miniature Australian shepherd, which means I have a tail that I can't chase. This can be annoying, watching other dogs chase their tails, but I'll get into why I love mine later. My natural instinct is to herd animals, but since I'm not doing that, I need another job.
My human, also known as Mom, seems to be upset with me this morning. There was something stinky in the yard, and I just had to roll in it. She gives me a quick bath on top of my regular bath yesterday. Oh well. Today we're going to work together, which means I have a purpose. Mom says, "Let's go visit." Then I get brushed, my harness goes on, and I jump in the car ready to help all the people I'll meet today.
The big building we visit is always busy. We walk past lots of humans of all sizes, big chairs and beds that move. This place does have a funny smell, like chemicals. But I love the smells from where humans eat food and talk. Mom won't let me go in there, so we just walk by all the delicious treats.
Along our walk, sometimes a human will stop to pet me. Other times they will smile at me but don't say hi. When we go to check in for our shift, I get lots of attention and some scratches that hit the spot. If I work my puppy eyes, I can sneak a treat from the jar before we head upstairs. Wait, here they come. Yes, it worked.
My Pack and Visits From Humans
We get off the elevator and go to the unit where two very important humans who wear name tags hang out with me. I like to call them my pack. I've been visiting them for more than two years now. I've learned the humans' names are Kristin and Carrie. They'll greet us outside the big doors, and I get even more attention. They're all laughing at my wiggling tail nub, which they call "Wiggle Butt Wellness Wednesday!" Does this mean I get my own holiday?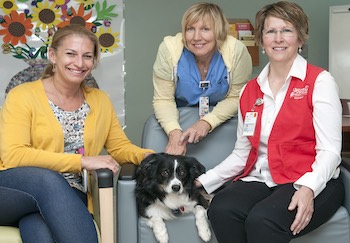 I can tell I am the only dog in this area since I can never smell other dogs. I am okay with this because it makes me special to these humans. There is a big room where I sit on a couch next to Mom, and then different humans will sit next to me and pet me. Some I remember and others are new, but they are always happy when they first see me. They talk to me and then to Mom and other humans.
Sometimes, I can feel their sadness or anxiety during their visits. I continue to lay in between the other human and Mom to comfort them.
They always comment on how fresh I smell and how soft my fur is. Little do they know, I had two baths because Mom thought I was stinky.
I'll never understand why they have to ruin the excitement of our visits with this awful, bitter smell on their hands. Mom makes them put it on their hands before and after visiting me. I hate this smell.
Today, a woman is visiting, and her hands are trembling as she's petting me. I wonder if she is scared? After a few minutes, her hands are now steady, so stroking my fur must have made her calm down. I can hear a crackling in her voice, and I feel something is still not right. She's starting to cry, so I adjust my position because maybe a hug from me will help.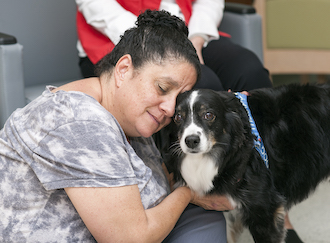 She hugs me so tight I can barely breathe. She's telling the pack how much she misses her dog back home, and how much it means to be able to cuddle with me today. I wonder what that dog looks and smells like, but she leaves the room, and someone else comes in.
This human is someone I recognize from before. She seems much happier now and is smiling today. Was it my unconditional love and nonjudgmental self that helped in this change? I like to think so, and I think my pack would agree. Visiting with these humans makes me happy, and I hope there will be treats at the end.
I go from the couch to the cold floor to stretch my legs. As I yawn during my stretch, the humans get so excited. I don't understand why or what I did, but Mom gives me some ice chips to enjoy. This keeps me hydrated during my visit plus it doesn't distract me from my work.
Luckily, the next human wants to visit with me down here on the floor. It's rare when humans sit on the floor with me, but now they're at my height. I've been working so hard, and I'll see if she'll go for the belly rub first. Wait, what in the world? She's nuzzling my neck and smelling my ears. Well, this is new from a human here. She tells my pack that getting a good dose of doggy smell just made her whole month. To each his own, but who knew I had such a paws-itive effect on these humans?
My Love Helps These People
I'm ready to go. Working with humans is exhausting. We give out what Mom calls "my calling card" as a souvenir and say goodbye.
We move to a different unit. At the nurses' station, where lots of people gather, it turns into a mob scene when they see me. Boy, they must really like seeing me today. But the best part of today was someone had pizza for lunch, and it smelled so good.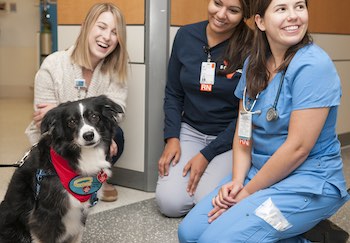 A tall human in a big white coat, similar to what my vet wears, asks if we can visit someone who seems depressed. As this human is petting me, I can feel his mood improving. He is telling a story about how comforting the therapy dogs were at the end of a long day when he was repairing a place called Ground Zero. He is so grateful we stopped by, I'm able to take his mind off his problems. Little old me is a very hard worker.
Down the hall, we walk into a room that has that big bed on wheels. I also smell peanut butter on the food tray. It's like these humans knew I was coming today. This person looks a little pale, but I can sense she is a dog lover. I am allowed to jump up on the bed, so I do, being careful not to pull out any tubes or wires.
As I lay next to her body, she tells Mom about her four rescue dogs she hasn't seen since she's been sick. I can tell petting me makes her long for her pack, but I'm glad I can fill in since they can't visit her here. We stay in her room for a few more minutes as she falls asleep. I know she had happy dreams with me by her side.
My Hard Work Deserves A Reward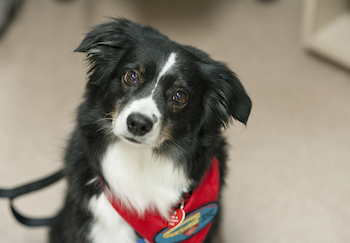 My job is done today. When we go back downstairs to check out, I have not forgotten the treat jar next to the computer, and I'm hoping Mom didn't either. I'll sit in front of it and not leave until I get my cookies.
As we leave, I go to find the right spot of grass and mark my territory since I know other dogs will be visiting later. If the weather is nice, I may get to walk by the big trees and chase some squirrels. But the best reward comes afterwards, when Mom takes me to get my very own hamburger, hot dog or vanilla ice cream pup-cup. Yes, I am one lucky boy and a great therapy dog.
Now to go home and rest. I'll be ready again next week to help the humans who are sad or sick.
Leave a comment about your experience with a therapy dog.