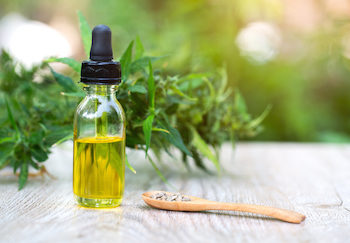 Across the country and here in Virginia, we're seeing a shift in marijuana legislation, specifically around the use of medical marijuana. This spring, governor Ralph Northam signed a bill that will allow Virginians to receive a certificate of use from their provider to purchase regulated medical marijuana products. These include cannabidiol (CBD) and CBD oil.
CBD oil is a product you've likely been hearing a lot about. "This is a chemical substance extracted from industrial hemp. It's non-psychoactive, unlike tetrahydrocannabinol, or THC, which gives you the high associated with marijuana," says pharmacy resident Mary Cordon, PharmD.
Medical Uses for CBD Oil
The U.S. Food and Drug Administration (FDA) recently approved a prescription medication with cannabidiol for controlling seizures in patients with childhood-onset epilepsy. There are also current studies looking at the benefits of CBD oil for relieving multiple sclerosis and schizophrenia symptoms.
Over-the-counter CBD oil is available as an herbal supplement. Users claim the oil helps alleviate anxiety, inflammation, pain and insomnia.
"Although this sounds promising, the important thing to keep in mind is that currently, the FDA does not regulate the CBD oil you buy over the counter," says Cordon. "There have been no long-term studies confirming its effectiveness." Plus, she adds, the FDA still considers CBD oil a controlled substance (a drug or substance of which the government restricts manufacturing, sales and possession).
Risks of CBD Oil
Because over-the-counter CBD oil is not regulated, you can't necessarily believe what's written on the label. Recently, researchers discovered that some CBD oil products contained THC, which may cause intoxication or a slight high. Other possible side effects of taking CBD oil are:
Fatigue
Diarrhea
Changes in appetite
Drug interactions with other medications you're taking
Keep Medications Out of the Wrong Hands

Find out how you can dispose of unwanted drugs properly.
"It's important for you to talk to your doctor before taking any supplement, but especially this one," says Cordon. "There are still some unknowns about the long-term effects of CBD oil. Plus, there is the potential for drug interactions and the FDA does not regulate over-the-counter CBD oil, so you can't be certain what you're getting."
Before you jump on the CBD oil bandwagon, talk to your doctor about the recommended uses for CBD oil first to be sure it is a safe option for you. Also ask about other approved medications that may help relieve your symptoms.