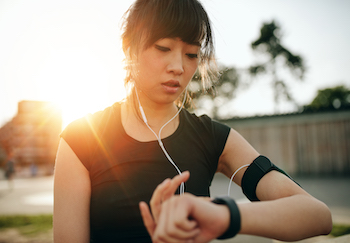 In the digital age, you can find technology for almost any task, from tracking your food to monitoring your sleep. These devices and apps can get you up and moving with notifications and daily reminders. But are daily activity trackers really helping you get healthy? Or do they just add more to your daily to-do list?
Tracker Popularity on the Rise
Consumer Reports shares that more and more people are using fitness-tracking wearables, such as smartwatches. Sales for products like Apple Watch, Fitbit and others are increasing every year.
In 2015, 17% of U.S. adults purchased a fitness tracking device, In 2017, smartwatches sales increased to 38%, and it's projected that later this year, 48% in Americans will have a fitness tracking device. And some also use activity tracker apps or sites such as MyFitnessPal or Nike Training Club.
If you haven't started wearing a daily activity tracker, you may wonder if you should. If you own one, you may wonder if it's helping or not.
Activity Trackers for Your Heart

A few options exist to help with heart health. The next generation of Apple Watch, for instance, will offer an electrocardiography (ECG) feature that can detect falls and any heart rate or rhythm issues. UVA cardiologists use similar technology for athletes and patients called the AlivCor's Kardia Mobile App. Purchase online or ask your cardiologist for help.
Why the Numbers Lie
Cardiologist Robert Battle, MD, has used fitness tracker technology to diagnose many UVA athletes complaining about heart issues. But he does caution that tracker pitfalls exist.
Generic Goals
Battle feels these devices are great if they get you moving, but they can be misleading. One person's 10,000 steps aren't equal to another's. Calorie burn counts and elevated heart rates don't mean the same thing for each individual.
In fact, a 2016 study showed that 470 people who wore daily activity trackers lost less weight than those who just follow advice from their doctors.
It's about the intensity. If walking gets your heart rate up, then keep going. If it doesn't, consider running or cycling.
Inaccuracy
Oddly, off-roading was counted on my mother's pedometer once, so that was an easy 100 steps but it didn't help her fitness goal.
Battle cautions wrist device users to be careful, as they might not always read correctly. Bring yours to your next doctor's visit to compare to their machines.
Out of Step With Yourself
You see the numbers on your smart device or app, and you want to do better. Maybe you're in a Fitbit challenge with your friends or co-workers. Competition is a great motivator, but without consulting with your provider, you could do too much than what's healthy for you.
Also, with these daily activity trackers, you're overloaded with numbers every day. "You're going by the data vs. how you actually feel," Battle says. You could overdo it and hurt yourself, killing the drive to stay active.
6 Ways to Stay Healthy Without a Daily Activity Tracker
Don't feel like you need an expensive device to get moving. Try these tips instead.
Commit to something every day. "Throw out the idea of working out three times a week to stay healthy. Two to three days aren't enough, and that's what's missing from the big health picture," Battle expresses.
Invest in good gear and equipment to reach your goals. Doctors recommend joint-friendly machines such as Concept2 rowing machines and stationary bicycles. But you don't have to buy a Peloton bike, a brand that's popular but pricey. Less-expensive options with just as much impact include a visit your local running store to find a pair of comfortable shoes or going to your local pool to burn some calories.
Take the stairs. If possible, avoid elevators and take those extra steps to burn more calories throughout your day. According to Livestrong.com, you'll burn 5 to 10 calories per flight of stairs.
Diet is important. Make sure your diet includes plenty of fruits, vegetables and mixed greens. Browse our heart-healthy recipes.
Look into your workplace's health/wellness programs. UVA Health's Hoo's Well program tries to motivate people to move. No matter your fitness level or job position, you can find time during your day to be active.
Remember to listen to your body. Be mindful of your body and create realistic goals. If not, you'll get discouraged or possibly injured.
Your Future Health
Get Heart Disease Support

Staying active can help prevent heart disease. Schedule a checkup to make sure you stay heart healthy.
Think about the big picture. Getting healthy will help you avoid future health problems. Dust off your old gym equipment and see what you can do. You might impress yourself. Instead of getting hung up in the technology, consider the process and where you need to go.
Ask your healthcare providers if you're unsure what physical activity is best suited for you. They're your biggest cheerleaders and want to see you healthy. Who doesn't love a good success story?