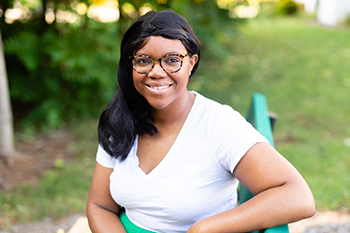 Atkins. Weight Watchers. Jenny Craig. The Military Diet.
"You name it, I probably tried it," says Angela Taylor. A self-described "typical young professional living in Charlottesville," Taylor could not list all of her weight loss efforts without breaking into laughter. It's a perspective she has gained in her struggles with weight loss on her journey to bariatric surgery.
Stress Eating Through the Turmoil
For Taylor, managing her weight had been a lifelong struggle, compounded by tragic events. While in college, her parents got divorced and her mother suffered a heart attack. This led Taylor to an early bout with stress eating and weight gain.
In 2013, she lost her niece, Alexis Murphy, in a highly publicized abduction and murder case in Nelson County, VA. The stress of this loss and the resulting media frenzy reignited her extreme eating habits.
Then, in 2017, Taylor tragically lost her boyfriend of three years.
"I just started eating away all of my feelings."
An Unexpected Candidate for Bariatric Surgery
Jennifer Kirby, MD, Taylor's endocrinologist at UVA, encouraged her to consider bariatric surgery. Initially, Taylor was hesitant because she didn't consider herself an ideal candidate.
But after meeting with bariatric & general surgeon Peter Hallowell, MD, she understood how her medical history, including high blood pressure and prediabetes, qualified her as an eligible candidate for gastric bypass.
"After an extensive evaluation and discussion with Angela, both she and I felt that a gastric bypass would be the best procedure for her," Hallowell says.
Considering weight loss surgery?

Learn more about weight loss procedure options at UVA.
There are a number of minimally-invasive weight loss procedures to choose from, including sleeve gastrectomy and gastric bypass. The gastric bypass procedure reduces the stomach, from roughly the size of two and a half fists to the size of a thumb. This procedure requires a life-long commitment to a change in lifestyle, nutrition and exercise habits.
"I said, 'OK, I want to do this!', and everyone in my family thought I'd literally lost my mind!" laughs Taylor.
But her consultation with Hallowell gave her hope. "The way I saw it, it was giving me a new lease on life."
Watch her story below.