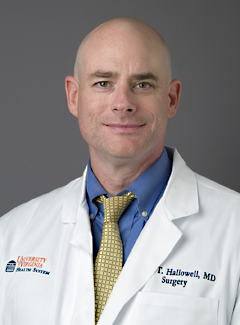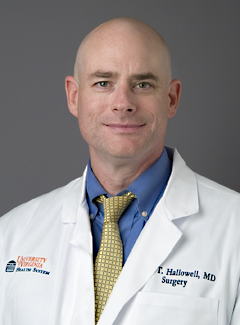 Peter Hallowell, MD, is a UVA bariatric and general surgeon treating patients who need help to lose weight. He's also the director of the bariatric surgery program and co-director of our minimally invasive surgery fellowship. Being part of the weigh-loss surgery team, he provides quality care for our patients with:
Gastric bypass
Sleeve gastrectomy
Endoscopic sleeve gastroplasty
Endoscopic gastric balloon
Meet a UVA Bariatric & General Surgeon
1. Why did you become a doctor?
My father became very ill when I was a teenager. I was really inspired to become a doctor by the people who cared for him, especially the surgeon. I also really enjoy helping others and the scientific aspects of medicine.
2. Why did you choose your specialty?
Surgery allows a physician to use not only their intellect but also requires physical talents in the performance of operations. I enjoy bariatric surgery because it allows me to form long-term relationships with my patients. I am proud to see patients meet their goals.
3. What is your favorite thing about Charlottesville?
I love the small town feel of Charlottesville. It has been great to meet and know people from all walks of life. There is always something to do: UVA sports, music or hiking – many things to choose from!
4. Where did you grow up?
Outside of Washington, D.C. in Montgomery County, MD.
5. What's the most exciting thing or research happening in your field right now?
Research in bariatric surgery continues to show a large impact on the lives of patients who choose to pursue surgery. Patients will see improvements in weight, mortality, medical problems and mobility, for example.
6. Who is your inspiration?
As I mentioned above, beginning with my dad and the wonderful people that took care of him. My wife and daughters inspire me to be the best person I can be every day. Also, I have had many great surgery mentors along the way.
7. What's your favorite thing about working at UVA?
The people I get to work with every day. Everyone is dedicated to delivering high-quality patient care.