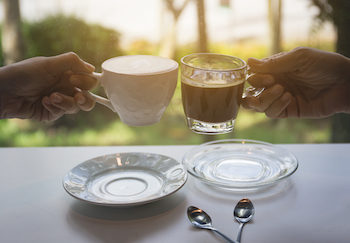 When it comes to morning beverages of choice, it's not uncommon for people to pick sides. It's Team Tea or Club Coffee all the way. Taste is a key factor, of course. But what about health benefits? If you're choosing the best beverage for your body — tea vs. coffee — which rises to the top? The answer: both. Research has shown that coffee and tea have a variety of health benefits.
Health Benefits of Coffee
The United States Department of Agriculture dietary guidelines recently listed coffee as a potentially healthy food.
"Observational studies that showed coffee drinkers — those who drink between three to five cups per day — had a lower risk of death from heart disease and diabetes, as well as Parkinson's disease," says registered dietitian Katherine Basbaum. "Coffee has high amounts of plant chemicals or polyphenols as well as magnesium, both of which have been shown to help reduce inflammation and insulin resistance."
Health Benefits of Tea
Get Help Setting Your Nutrition Goals

Make an appointment today with a UVA dietitian.
The benefits of tea are similar to coffee. Both black and green teas also have plant chemicals called flavonoids, which are natural antioxidants and are anti-inflammatory.
"In studies, tea drinkers have been shown to have a lower risk of stroke and heart attack," says Basbaum. "We can attribute this, in part, to those flavonoids."
For the highest concentration of antioxidants, green tea is the best option because it is not as processed as black tea. There's also matcha, a highly concentrated green tea that has become more popular lately.
Tea vs. Coffee: Can You Have Too Much?
No matter which beverage you choose, there are risks of drinking too much coffee and tea.