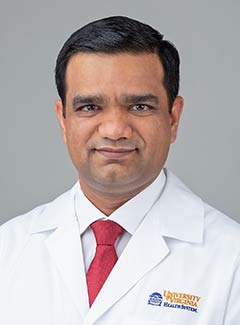 Urologic surgeon Sumit Isharwal, MD, treats patients with certain urinary and reproductive system cancers, including:
He sees patients at the UVA Urology Clinic in Charlottesville.
Meet a UVA Urologic Surgeon
1. Why did you become a doctor?
I always enjoyed science and decided to pursue a career where I could help other people.
2. Why did you choose your specialty?
I chose urologic oncology because it involves thoughtful decision-making, a wide variety of operative procedures and multidisciplinary collaboration. Understanding cancer care and survivorship not only from the surgical perspective but also the medical, psycho-social and societal perspective is very rewarding.
3. What is your favorite thing about Charlottesville?
Shenandoah National Park
Looking for a Urologic Surgeon?

Learn more about UVA's urological cancer treatment & clinical trials.
4. Where did you grow up?
I grew up in Haryana, India, about 100 miles from New Delhi.
5. What's the most exciting thing/research happening in urologic surgery and oncology right now?
Identifying targetable genomic alterations by genomic sequencing of tumors. Precision medicine is an approach to patient care that allows physicians to select treatments that are most likely to help individual patients based on a genetic understanding of their disease.
6. Who is your inspiration or hero?
My parents.
7. What's your favorite thing about working at UVA?
My colleagues who go above and beyond to provide the best patient care possible every day.