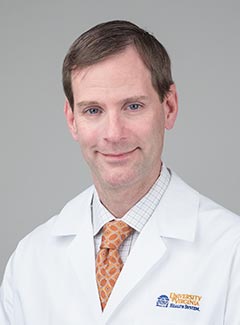 David Rapp, MD is a urologist at UVA Health System. He specializes in female pelvic medicine. He currently holds a patent for a device that allows for easier treatment for pelvic organ prolapse.
Meet a UVA Urologist
1. Why did you become a doctor?
My father and grandfather are physicians, and it seems that their passion for medicine was passed on to me. My grandfather loved his career and often said, "I have never worked a day in my life".
2. Why did you choose your specialty?
I chose female pelvic medicine — urogynecology — as my specialty because, even though urinary incontinence and pelvic prolapse are not life-threatening conditions, I saw how much these disorders restricted patients' quality of life. And, I saw how simple treatments could make such a difference. I wanted to be part of that.
3. What is your favorite thing about Charlottesville?
The Blue Ridge mountains. I wish I could spend even more time enjoying the back country.
4. Where did you grow up?
I grew up in McLean, Virginia.
Urology at UVA

Get care for the full range of urologic conditions at UVA's Urology Clinic.
5. What's the most exciting thing/research happening in your field right now?
I am most excited about the technologic advances that we are making that allow us to reach and help more patients. Oftentimes, with problems such as urinary incontinence, dramatic results can be achieved with conservative, non-surgical approaches. Additionally, we are using internet education to reach more and more people that previously would have had limited knowledge of this important area of medicine and treatment. To me, this is truly exciting.
6. Who is your inspiration or hero?
I am the founder of the Global Surgical Expedition, a medical charity that sends surgical teams to medically-underserved countries in order to provide surgical care. My heroes are almost every patient that I meet during my medical mission trips with GSE. In each patient, I hear stories of courage and inspiration that move me, that speak to the good in each of us, and that remind me of why I chose a career in medicine.
7. What's your favorite thing about working at UVA?
My favorite things about working for UVA are the creative energy and dedication I have encountered. Be it through research, clinical care, or administrative approaches, I have met so many diverse health care professionals who all share a common goal: providing excellent care to our patients and advancing the field of medicine. UVA is simply an exciting place to work.