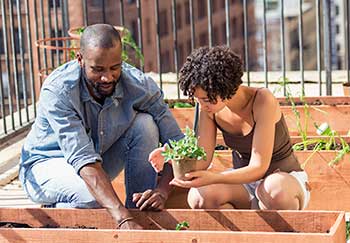 As outlined in our introduction to the concept of the social determinants of health, how healthy you are depends upon a variety of factors that have nothing to do with medical care. A person without enough money, a secure place to stay, the ability to read, social support, or other resources faces increased risks for chronic disease, mental health issues, and adequate healthcare. Health disparities in Charlottesville reflect deep racial and socioeconomic divides across our community.
Asking the Right Questions
This is why providers at UVA and across the country have started trying to find ways to identify patients' social needs and help connect them to helpful resources.
Amy Salerno, MD, explains that, if you visit a UVA primary care clinic, the emergency department, or the hospital, you may face questions like:
"In the past year, did you ever eat less than you needed to due to a lack of money?"
"Are you worried that in the next two months, you may not have stable housing?"
"Do you ever need help reading hospital materials?"
With questions like these, providers can start to get the whole picture of the challenges a patient might experience in trying to become or stay healthy.
Health Disparities in Charlottesville
So, how do health providers match patients with support organizations that can meet their needs?
How do individuals try to improve huge environments and systems that cause ill health?
At UVA Health, Salerno and others have been working to address the social determinants of health that create health disparities by:
Referring patients to community services
Supporting and partnering with community initiatives
PIECES Iris: Collaboration Across the Community
Several organizations throughout the Charlottesville community have partnered together to share an online platform, PIECES Iris®. This secure network connects providers to services that help with the non-medical parts of people's lives. Salerno says this partnership helps patients with social needs that impact their health.
Just as your primary care doctor might refer you to an allergy specialist, PIECES Iris gives doctors the ability to refer someone without enough food to a community resource that can help. The tool brings all the support services on the same page when caring for a specific individual.
Salerno sees huge potential with this tool. "If we can learn collectively as a community how to pool our resources to address social determinants of health, we can achieve a common goal: to improve the health and well-being of our community."
UVA Health & The Community

Learn more about our community outreach grants and collaborations.
Partnerships That Improve Our Community's Health
In the last year, we've supported amazing work by a number of area organizations. Their efforts address several health disparities in our area. Those include:
The Urban Agriculture Collective of Charlottesville worked with neighbors to grow and distribute over 1,000 pounds of produce.
Blue Ridge Area Food Bank's mobile food pantry program distributed 50 pounds of fresh food to rural households.
The ReadyKids Healthy Families Counseling Program counseled 38 mothers, 91.7% of whom had a reduction in symptoms.
The Club Fit Chicks program (by the Boys and Girls Club of Central VA) got 74% of its teen girls getting active for at least 30 minutes for 5 days/week.
The Charlottesville Free Clinic connected 63% of those in need of a therapist.
The Women's Initiative provided emotional support to over 1,000 individuals.
The Child Health Partnership helped 87% of enrolled pregnant women enrolled to deliver their babies at full term.
Jefferson Madison Regional Library increased wireless internet service access.
The Alzheimer Association's Healthy Living for your Brain workshops had 322 participants commit to making at least one lifestyle change.