Update, April 30: Researchers have found that remdesivir does, in fact, help patients with advanced cases of coronavirus recover 31% faster. It also appears to improve survival.
"This is the first clinical trial to demonstrate an effective treatment for COVID-19," says Patrick Jackson, MD, the principal investigator of the trial at UVA. "Remdesivir will be one tool we can use to turn the tide of this pandemic."
---
Currently, there's no cure for the coronavirus (COVID-19). But UVA has joined a national coronavirus clinical trial testing an antiviral drug.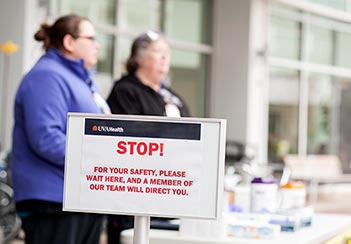 The drug has already been tested in humans with the Ebola virus. It also looked promising in animal studies on two other conditions that coronavirus causes: Middle East respiratory syndrome (MERS) and severe acute respiratory syndrome (SARS).
"Finding an effective treatment will be incredibly important in our battle against COVID-19," says K. Craig Kent, MD, UVA's executive vice president for health affairs. "I am pleased that UVA is a part of this valuable study."
How the Trial Works
The trial is only for hospitalized adult patients with COVID-19. They can choose whether they participate. They'll either receive remdesivir or a placebo, a harmless substitute for the drug. The patient and their healthcare providers won't know which one they get.
Patients in the trial will continue to receive appropriate care for their symptoms. Doctors will look for changes in their condition every day.
Researchers estimate about 440 people worldwide will take part in the coronavirus clinical trial. Halfway through the enrollment period, they'll analyze the current data. That could lead to changes in the trial. If the remdesivir isn't helping participants recover from the coronavirus, they might stop the trial or add another medication.
Having the information "will be helpful as we seek to provide the best care for patients," says Patrick Jackson, MD, the principal investigator for the trial at UVA.
Do You or a Loved One Have Symptoms?

Having symptoms? Call your primary care provider. If you don't have one, find one near you.

If your symptoms are severe, call this number before coming to the emergency department: 434.98.COVID (982-6843).

Get more information about how UVA is addressing the coronavirus & COVID-19.
The National Institute of Allergy and Infectious Diseases is funding the study. Gilead Sciences Inc., which developed remdesivir, is supplying it.
"Bringing the remdesivir trial to UVA is a true testament to our collaborative spirit," says Taison Bell, MD, a UVA critical care and infectious disease specialist. "Before I spoke to Dr. John Beigel (the principal investigator for the entire trial), we had already lined up the research staff and infrastructure to hit the ground running. He was impressed with our organization, and we were able to start moving immediately."
Other Coronavirus Research & Tests
We're also involved in developing a vaccine and testing. And we're trying to better understand how the coronavirus impacts people.
Developing a Coronavirus Vaccine
Infectious disease experts are also working on a coronavirus vaccine with other researchers around the world.
Coronavirus Testing
Laboratory experts developed their own coronavirus test. This allows us to test many more patients per day. We've also offered it to other hospitals.
How the Coronavirus Affects Kids
Researchers believe that some kids, even if they don't have symptoms, play a "major role" in disease transmission. And a small percentage become seriously ill. Babies and preschoolers are among the kids at highest risk.
Steven L. Zeichner, MD, PhD, head of our Division of Pediatric Infectious Diseases, co-authored a commentary about this in the journal Pediatrics. "Many infectious diseases affect children differently than adults and understanding those differences can yield important insights," the authors write. "This will likely be true for COVID-19, just as it was for older infectious diseases."