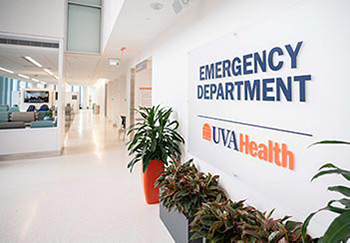 With the coronavirus (COVID-19) in Virginia, you're probably reluctant to seek care for anything unrelated right now. But UVA providers have noticed a disturbing trend.
"We've seen a decline in the number of areas in patients seeking emergency care," says neurologist Andrew Southerland, MD, in a recent NBC29 interview.
That doesn't mean fewer people are having stroke and heart attack symptoms. It means they're avoiding the hospital. They may be afraid they'll catch the coronavirus from other patients. Or they might think the hospital is now only treating coronavirus patients.
UVA & the Coronavirus: What to Expect
The coronavirus is in the Charlottesville area. The Virginia Department of Health is reporting more cases every day.
We've rescheduled some appointments and procedures, but these are for non-emergencies. The Emergency Department is still open for emergencies and serious issues.
Minimizing Risk at the Hospital
We have taken steps to keep the hospital safe from coronavirus infection. These include:
Screening all patients for the coronavirus when they arrive
Evaluating, testing, and treating people with possible infections in a separate, isolated treatment area
Also, patients can't have visitors, with some exceptions. This helps reduce the risk of the coronavirus spreading to patients and employees.
When to Call 911
So, what symptoms should prompt an immediate 911 call or emergency room trip? Heart attacks and strokes are two of the most common conditions.
Stroke Symptoms: Slurred Speech, Drooping Face
According to the American Stroke Association, stroke is the fifth most common cause of death in the United States. It's also the leading cause of serious disability. But quick action makes a difference. Doctors can give you clot-busting drugs and perform surgery if necessary.
B.E. F.A.S.T. is an easy way to remember stroke symptoms and what to do:
Balance — sudden loss of balance or coordination
Eyes — double vision or lack of vision in one eye
Face — an uneven smile, one side of the face drooping
Arm — one arm is weak
Speech — slurred speech
Time — call 911 at once
Brain bleeds and other severe neurological problems can have similar and additional symptoms, including seizures.
Heart Attack Symptoms: Chest Pain & More
About 805,000 Americans have a heart attack each year, according to the Centers for Disease Control and Prevention. Heart attacks happen when blood can't get to the heart muscle, and the tissue gets damaged or dies.
Just like with strokes, it's essential to go to the hospital immediately if you have symptoms. Doctors can give medications and do surgeries that restore the blood flow to your heart. But the longer you wait, the more your risk of permanent damage and death increases.
These symptoms may mean you're having a heart attack:
A squeezing, heavy chest pain behind your breastbone
Pain or numbness in the left shoulder, left arm or jaw
Shortness of breath
Sweaty or clammy skin
Nausea
Weakness
Loss of consciousness
Anxiety
Chest pain is the most common symptom. But women are more likely than men to also experience shortness of breath, nausea and vomiting, and back or jaw pain, according to the American Heart Association.
Stroke or Heart Attack Symptoms?

Call 911 or go to the nearest emergency room. Get directions to UVA's emergency room.
Other Times You Should Go to the ER
Call 911 immediately if you see these symptoms:
Choking
Not breathing
Head injury with passing out, fainting, or confusion
Neck or spine injury, especially with loss of feeling or inability to move
Electric shock
Severe burn
Seizure lasting 3-5 minutes
MedlinePlus lists other symptoms that justify an immediate ER trip.
"We don't want patients to avoid calling for emergency services or going to the hospital if they have any signs or symptoms of other illnesses," Southerland says. "We still want to recommend to folks to call 911, get your EMS providers there to help, and get to the hospital as soon as possible."